In the last few years it's maybe fair to say that we have seen a small contraction of users opting for valve equipment. That said, many of Lotus's oldest customers have Allnic systems and their staunch support and zest for the South Korean brand and vacuum tubes in general has if anything grown even stronger. Allnic is a brand which has always sold in very solid steady numbers here and the equipment simply sells itself once people are put in front of it. People often sample the brand by way of one of their phonostages or an integrated amp but then months or years down the line, you find that they steadily change their whole system over to Allnic.
Of course there are many many 'good' valve amplifiers out there, plenty even just made on these shores if truth be told, but how many are actually genuinely special ? Well, I still say hand on heart that most pieces which Mr. Kang Su Park builds are very special in some way, not to mention massively competitive at the prices asked. Onwers out there will agree with me i'm sure.
Good news for Allnic lovers then. 2018 has seen an increased flurry of activity back at the factory. Not only has almost the entire line been revamped with new fascia and logo cosmetics, 25th Anniversary and mk2 edtions of popular products but 4 key highend products have also received a major upgrade creating four new superceeded models. As if that wasn't enough, now ready for shipping is a new flagship no holds barred linestage and a new set of mono amps, the most powerful yet to date that the company have produced.
The much loved HPA5000 headphone amp now becomes the HPA5000 XL with a host of improvements. Similarly the popular KT150 T2000 integrated ships as the revamped 25th Anniversary edition as does the equivalent A2000 stereo power amp. The 300b T1500 integrated has also undergone a small transformation and is now shipped in mk2 guise.
L7000, L8000 DHT, H7000, H8000 DHT
Four big guns have been completely upgraded to new models. The tri-input H7000 with MM,MC and electronic input for very low voltage MC replaces the outgoing venerable H3000. The new H8000 DHT phonostage replaces the mighty H5000 and features better and quieter operation. On the linestage front the L7000 replaces the L3000 and the former flagship L5000 DHT now ships as the L8000 DHT sporting a newly designed attenuator and some improvements in the tube technology.
L10000 linestage
Now for two very exciting new products. The L10000 is Kang Su's new top of the line preamp, the very best he can create. This is an ingenious 'Output transformer less' and 'Output Capacitor less' design using four 300b's for output. As an OTL/OCL linestage it can boast a level of dynamics, neutrality and freedom from distortion not easily possible in a traditional linestage where there is coupling between pre and power.
We plan to have a UK demo very soon and are really looking forward to seeing just how high this beast will perform. We've had some intial feedback from david Beetles at Hammertone Audio in Canada and it's all pretty mouthwatering. This year we have already placed a few of the new L8000's in the UK which sounded a significant jump up from the outgoing L5000 and I would already put that linestage up against pretty much any that i've heard barring the £50,000 Tidal Presencio. So that means the new L10000 is sure to be something very very special indeed.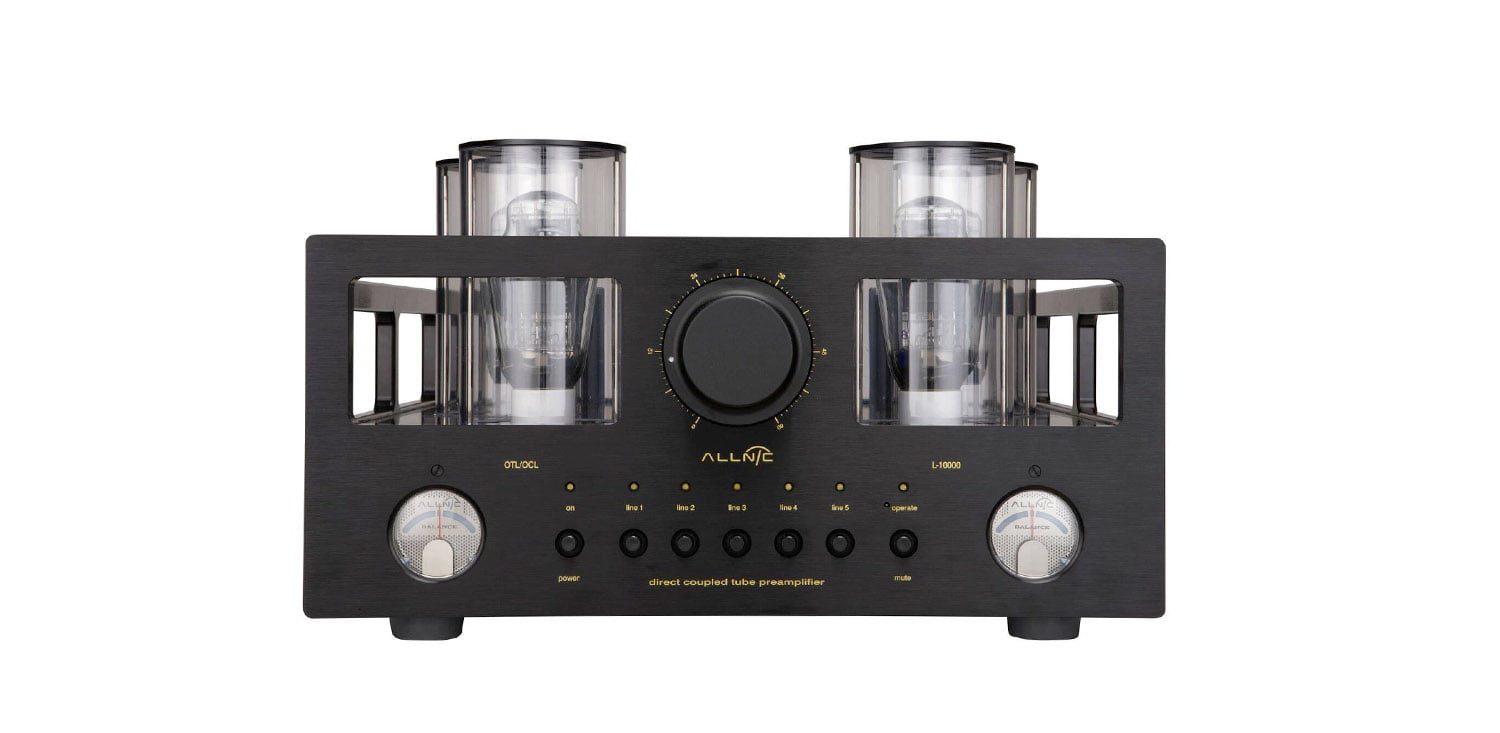 M5000 Titan
The new parallel push pull M5000 mono amps from Allnic represent a new kind of product. Here we have a mighty 400W of class AB and 125W in class A mode using x8 KT150 tubes per side ! This is  a very new product so details are limited but I have been told they offer incredible dynamics, drive and space but then you'd expect that from a gargantuan push pull Allnic with this type of power. I am personally loving the new chassis design on these as well.