"The TIDAL Agoria – our statement in the fullsize class of reference speakers. It is the first speaker with a cabinet made out of TIRALIT™, an all exclusive TIDAL cabinet material, which combines ultimate stiffness and resonance control. The unique configuration of two eleven inch woofers and three eleven inch passive sub-bass radiators in CIC configuration is unique and does guarantee with our BCC drivers and the pure diamond tweeter a most natural performance with extremely powerful headroom.
TIRALIT™ CABINET
The cabinet of the TIDAL Agoria is made out of TIDAL's proprietary cabinet material TIRALIT. This cabinet material does combines the rigidity of hard materials such as metal with the resonance absorbing behavior of softer materials such as wooden materials like MDF. While TIRADUR is 30mm thick, TIRALIT goes even further and is 42mm thick and combines more single layers. The materials itself, the process of making it and how the material reacts when it is getting excited by vibrations and resonances – all this we putted into consideration when we designed it.
It is the only advanced cabinet material allowing to use organic surfaces such as our famous polished veneers, as well as true polyester piano lacquer. So when you see the Agoria in our most beautiful veneers or our shiny black piano finish – don't make the mistake to think the cabinet is out of wooden materials or MDF.
DIAMOND TWEETER
The TIDAL Contriva has an Accuton 30mm pure diamond diaphragm tweeter. Not only it is the biggest diamond tweeter in the world, TIDAL also was the very first company at all using a 30mm diamond tweeter. While the driver itself offers already terrific qualities and is being installed in a massive housing out of polished stainless steel for optimized resonance control – only in combination with our unique TIDAL crossovers this driver can perform in way what we have become famous for.
Maybe interesting to know on a side note: this very same diamond tweeter technology is being used also in the worlds most exclusive car, the Bugatti Chiron.
BCC MIDRANGE WOOFERS
TIDAL's exclusive BCC driver technology is the result of the Accuton TIDAL cooperation for more than a decade and are to find only in TIDAL speakers. The diaphragm itself is a special coated black ceramic diaphragm and uses a "short coil / long gap" neodymium motor perfectly designed for the hermetically sealed and asymmetrical designed midrange chamber of the Contriva.
Embedded in a special shaped ring out of hand polished massive stainless steel to avoid reflections form the protection grill, needless to say that this driver does guarantee absolutely no compromise for the performance and reliability.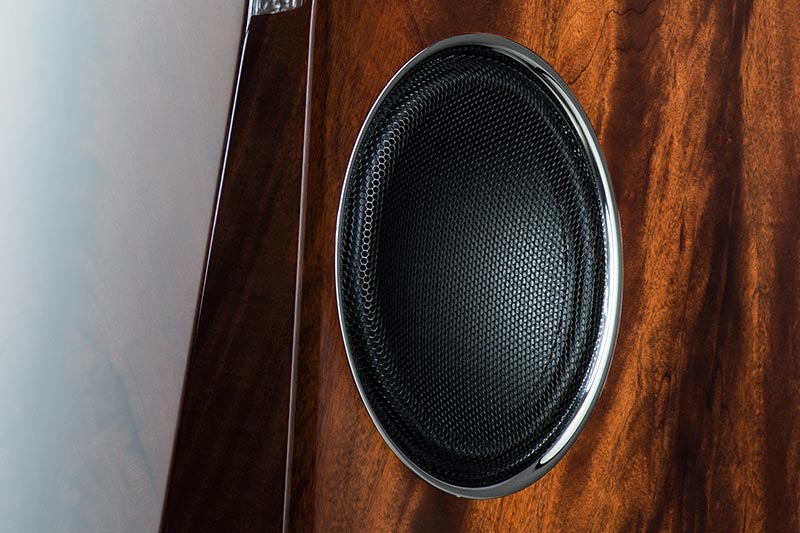 BCC SUBWOOFERS
Also the woofers in the TIDAL Contriva are the exclusive BCC drivers and are to find only in this very particular TIDAL speaker. The drivers was designed to play within the vented bass chamber with its big inner volume to play extremely deep, fast and without compression, at lowest and highest reproduction level.
The motor allows a very long and linear excursion of the both side coated black ceramic diaphragm, the hardest and yet lightest diaphragm technology in this size on earth yet.
PASSIVE RADIATORS
The TIDAL Agoria is designed to be adapted for the deep bass response with our unique Variobass technology, both passive or active to play perfect at any room. The unique passive radiators are mounted in impulse compensated configuration and support a very deep and low distortion reproduction of bass frequencies without any noise. We excite the bass modes very even within the room with all together 10 sources (4 subwoofers, 6 passive radiators), therefore the beast reproduction as far less critical like with other designs.
Here as well our polished stainless steel rings are not only our famous detail and does reflect our love to details, it is designed to clamp the drivers absolutely tight in to the TIRALIT cabinet.
PASSIVE CROSSOVER
Mounted in a hermetically shielded chamber: pure copper foil capacitors, coils of the same caliber, silver-carbon resistors – only the finest components with proven long time stability are used for our crossovers. Unfortunately, these components are also the most expensive ones and are custom-built for TIDAL. Whether any part must be that expensive is a meaningless question and, for one thing, not one that should arise from budgetary restraints. Only the final result is what counts to us and considerations of cost do not enter into the equation.
Our guiding principle is to present our customers with the highest possible degree of reality in musical rendition. Anything less is already amply available but does not meet TIDAL's demands. That is why literally every component is scrutinously evaluated and selected on the understanding that it has be the one without alternative for its specific purpose.
VARIO TERMINAL
The Agoria has a multiple adjustment Varioterminal. One can influence the bass and deep bass reproduction to almost every room in a so far unknown manner. More or less upper bass? More or less deep bass? More or less bass level? All is easy to do already in a complete passive mode. And talking about bass adjustment: the 3 sub-bass radiators can be tuned with several weights for best performance in the room as well.
The tweeter curve can be adjusted to hard, medium, soft or no reflections. Also the bass cross-over, as good as it is, can be all bypassed to drive it with our exclusive TIDAL LPX technology for practically endless flexibility and control then the subwoofers directly with the power amplifier.
ISOLATOR FEET
The Agoria does come serial with 4 massive aluminum isolation feet per speaker. Each of it is milled out of a massive block of aluminum and available in two  versions: hand polished silver and covered with a special coating avoiding any kind of oxidation or with a black structured hard coating. Needless to say that these massive metal parts are 100% made in Germany.
multi chamber cabinet made out of TIDAL's proprietary cabinet material TIRALIT™
1 x 30 mm (1,2″) diamond tweeter (an exclusive Accuton TIDAL cooperation)
2 x 173 mm (7″) BCC long excursion low distortion midrange woofers (an exclusive Accuton TIDAL cooperation)
2 x 280 mm (10,5″) long excursion BCC subwoofers (an exclusive Accuton TIDAL cooperation
3 x 280 mm (10,5″) long excursion BCC passive radiators (an exclusive Accuton TIDAL cooperation)
passive crossover network with ultra low tolerance components, exclusive use of costume tailored CAST Duelund-copper-capacitors and CAST capacitors, metalfilm-resistors, silver-carbon resistors, air-core-inductors, ultra low resistance bass-inductor
passive crossover is microphonic and hermetically isolated in a separated chambers
total weight of the passive crossover construction: 19 Kg / 42 lbs.
adjustable diamond-tweeter curve (hard room-refections / soft room-reflections / adjustable curve at 7KHz and 13KHz)
adjustable upper bass curve
Variobass, passive adjustable in three settings (linear, gain A and gain B)
excellent low level listening reproduction
pure silver binding posts for perfect contact, isolated massive aluminum knobs on fiberglass isolation core
adjustable bi-wiring / passive bi-amping / active bi-amping double-terminal
special microfibre-cleaning cloth for maintenance
owners manual book with signature from the TIDAL employee who build the speakers
special 5-part TIDAL stainless steel isolators
optional: 8 x trigger bars out of massive aluminum, black structured or high gloss polished, the position of the variofeet can be mounted in parallel or sloped back, both on the frontside and/or backside
serial cabinet finish: original TIDAL piano lacquer in midnight black
optional cabinet finishes: finest hand selected veneers in TIDAL's original transparent piano lacquer.
other finishes: on request
the TIDAL Agoria is being delivered in 2 x ATA-flightcase, incl. all accessories inside
nominal power handling: 200 / 1.000 VA
nominal impedance: 4 Ohm
recommended power amplifier: 30 watt and up. Very easy impedance load also for tube amps
to use the whole enormous dynamic range of it and listening complex music also from time to time very loud we recommend > 200 watts at 4 ohm
speaker dimensions: 163 cm x 31 cm x 60 cm / 64,2″ high x 12,2″ wide x 23,6″ deep
dimensions with vario feet (from ground to top): 170 cm high / 67″ high
speaker weight without packaging: 2 x 215 Kg / 2 x 475 lbs.
shipping weight with packaging: 2 x 245 Kg / 2 x 540 lbs.
shipping dimensions: 2 flightcases, each flight case is 182 cm length x 42 cm width x 72 cm height / 72″ length x 16,5″ width x 28″ height
| | |
| --- | --- |
| TIDAL AGORIA | |
| Tidal Piano lacquer: Midnight Black | £89,180 |
| Tidal Piano Veneer Lacquer: Macassar / Cloud Macassar / Bubinga / Mahogany/ Rosewood | £95,550 |
Each pair comes with x2 ATA-Transport Flight cases, 8 polished piano bars & isolator feet, performance crossover.