DIGITAL SOURCES
We still sell one Vitus CD player to spin CD's but most of the time a digital source these days is made from an audiophile streamer/server unit connected to a DAC, usually by a USB cable. Streamers became better than the best CD transports some time ago now so unless you are emotionally attached to the process of playing a physical CD, there isn't any other reason to buy a CD player. Many people also now build systems purely around subscription based music Qobuz and Tidal – it's become that good – and certainly all the signs are that in the future, owned music will become a thing of the past.
The streamer is very important in the chain, especially so if you are playing files from a hard disk. Development and understanding in this area has advanced hugely in recent years. Also important is optimising the home network. Your home network is a huge source of noise and it is connected to your hifi through the streamer so we find that any improvements in noise reduction to your router and its connection will pay handsome dividends in terms of sound quality. Read my guide here if you are interested, the "network" should actually be viewed as a component all of its own that can be upgraded considerably. The USB cable that sends the digital signal from the streamer to the DAC is also extremely important; it is probaly the second most important cable after the speaker cables.
Despite all that complexity, our range of digital sources is very straightforward. All solutions are completely non-digital and analogue sounding  but without being soft, warm or bloomy. High resolution and exceptional transparency and of course, very natural, expressive and musical.
We begin our range with the Exogal Comet DAC at only £3000. This is a wonderful sounding unit designed by some very clever people and mated to a good streamer performs like a £10,000+ digital source. It sounds very much like Vitus digital so makes a useful partner to the SIA-025 and Allnic Integrateds which cannot sport internal DAC modules. Because it is a discrete chassis it can be improved further and further with a mains cable, stillpoints, Entreq grounding and a quality Plixir LPS power supply.
Vitus is our digital bread and butter. If you were impressed by their amplification, wait to you hear their digital sources. Their standalone range begins with the £11,000 RD-101 which is then improved upon as the SD-025 in the signature range and then their flagship is the MP-D201 Masterpiece DAC.
The RD-101 is a lofty starting point, it regularly floors customers who are used to popular and more expensive flagship digital sources. As you move to the SD and then the MP-D, you get an even more natural sound, more resolution, more life and dynamics and you simply get even closer to the true essence of the music and the files you are playing.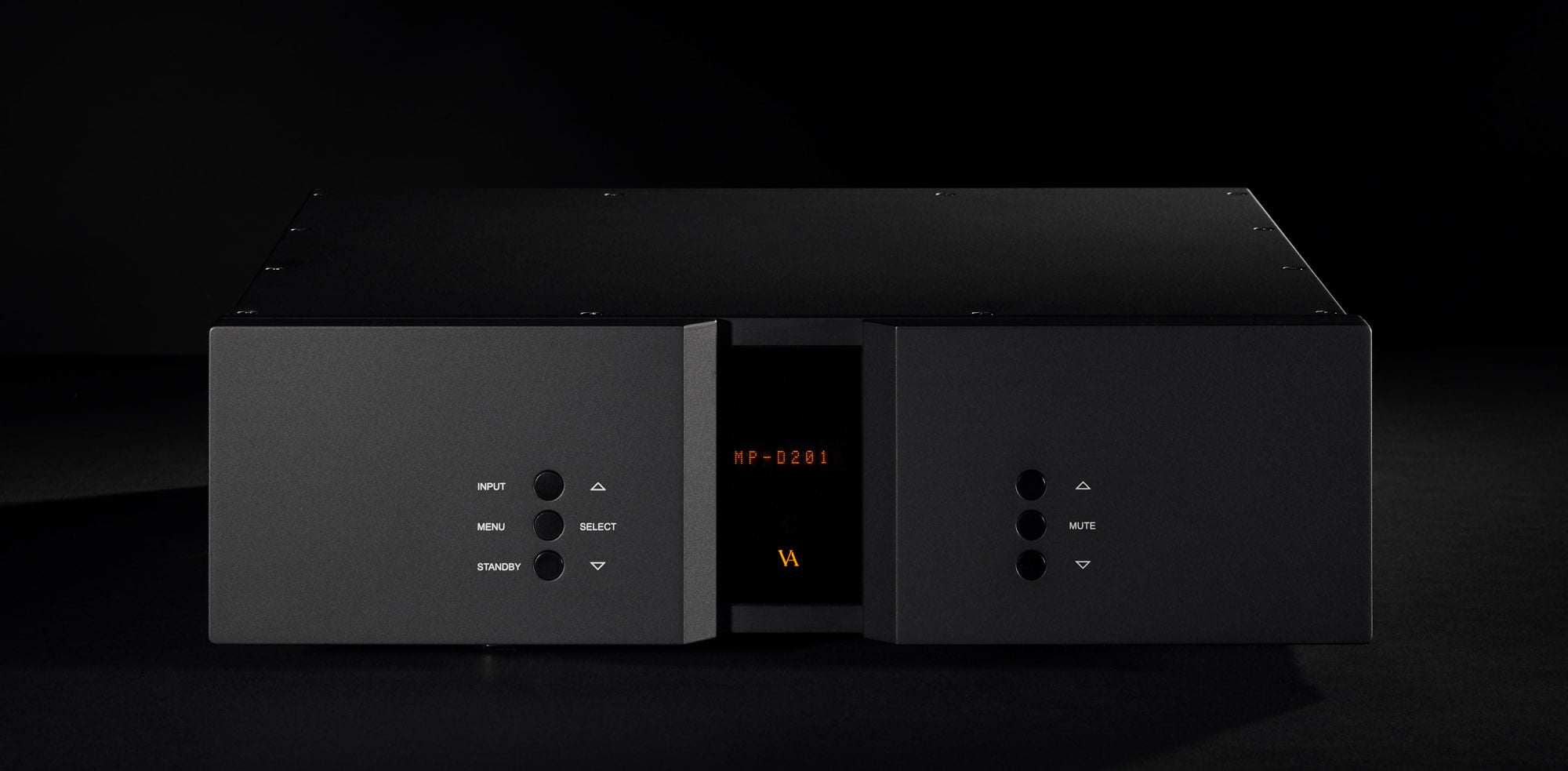 Both the RD and SD have an additional ethernet input and a Vitus streaming module built in so they can just be plugged straight into your home network, and using the Vitus Mconnect app on your phone/ipad you can enjoy music streaming services, radio and any files that are on a NAS or storage device also on the network. Using a dedicated streamer/server will make for a better sound though.
Vitus also still makes the SCD-025 derivative of the Signature series DAC and this includes a a transport as well instead of the streamer input so is a fully fledged CD player.
Vitus also offers an internal DAC module for both the RI-101 and SIA-030 Integrated amps. These very popular low cost options perform so much higher than their asking prices would suggest. The 030 module is actually on par with the RD-101 and the RI-101 module regularly floors rival DACs in the £4000-£8000 price range.
Brinkmann from south Germany are extremely well known for their turntables but they make one DAC, the Nyquist which is slightly more expensive than the Vitus RD-101. It is extremely functional with native support for Roon, MQA and streaming services. Although it has valves in it, it might actually be even more neutral and linear than the Vitus DAC's. It's a fine addition to our range and with its beautiful German build, exhaustive functionality and connectivity, and built in headphone amplifier, it has won many fans.
Tidal Audio only make one standalone DAC, the £36,000 Camira. Its performance level puts it in a very small club indeed. It has a purity which is almost uncanny. It is so completely natural and free from artifice or colouration yet also offers the very best levels of musical insight and resolving power.
In mk1 form it was our flagship DAC by some margin but now in 2020 mk2 form, it has moved deeper still into its own domain of performance. Being a Tidal, it is best enjoyed in a very open system that is low noise and neutral at all junctures. Then its naturalness and invisibility can be fully appreciated. We have many customers mixing it with all sorts of makes and as such it is a great cross pollinator to introduce people to the brand.
Melco is our go to streamer brand. This is a well populated area of the marketplace now and other good similar products would be from the likes of Innuos, Antipodes and Aurender. We were never convinced that any one of them was a clear winner as they all had various pluses and minuses from aesthetics to functionality, sound quality, strength of the company, reliability etc. but we did always feel that Melco was at least at the top for out and out sound quality. Melco also happens to be born out of an extremely robust parent company so things like stability, market presence, aftersales, infrastructure and new product development are first rate. Now that their extensive range all support Roon, you could argue that they have now indeed edged away from the competition.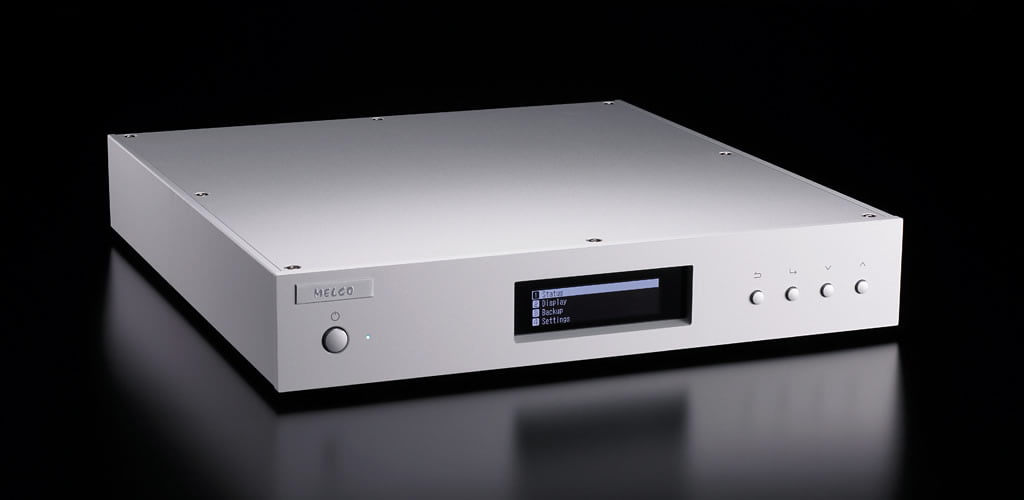 Their range and how we sell them here is quite straightforward. There are 5 models but we tend to side step the entry N100 and the penultimate N10 and focus on the full width chassis £2749 N1a, the £5249 Zh and the flagship £10,000 Zs. You really do get what you pay for with Melco. The jumps in sound quality as you go up the ladder are very well judged. The Zh might be considered the sweet spot but most Lotus customers probably just buy a Zs. There is a strong argument for the streamer being as important as the DAC when it comes to playing WAV files on a hard disk.
Melco Blogs – coming soon
It's awfully trite to say something is the best in the world but in this instance, it's all true. The £25,000 Taiko SGM Extreme is a server built to an unprecedented level. There really is nothing else like it commercially available. Emile Bok and his team over in the Netherlands have taken the high-end world by storm and barely had time for sleep in the last 24 months or so. We believe the forthcoming Tidal Arkas streamer will compete strongly with it at the very least, but until such time, the no holds barred SGM Extreme is out on its own. The Melco Zs has long since beaten every CD transport we've thrown at it regardless of price and is an amazing unit in itself but the Taiko is a whole other world of naturalness and transparency. Next year we hope to see  a lower priced Taiko streamer and further upgrades for the Extreme to take it to even higher territory.
Taiko Blogs – coming soon
Continue to ANALOGUE