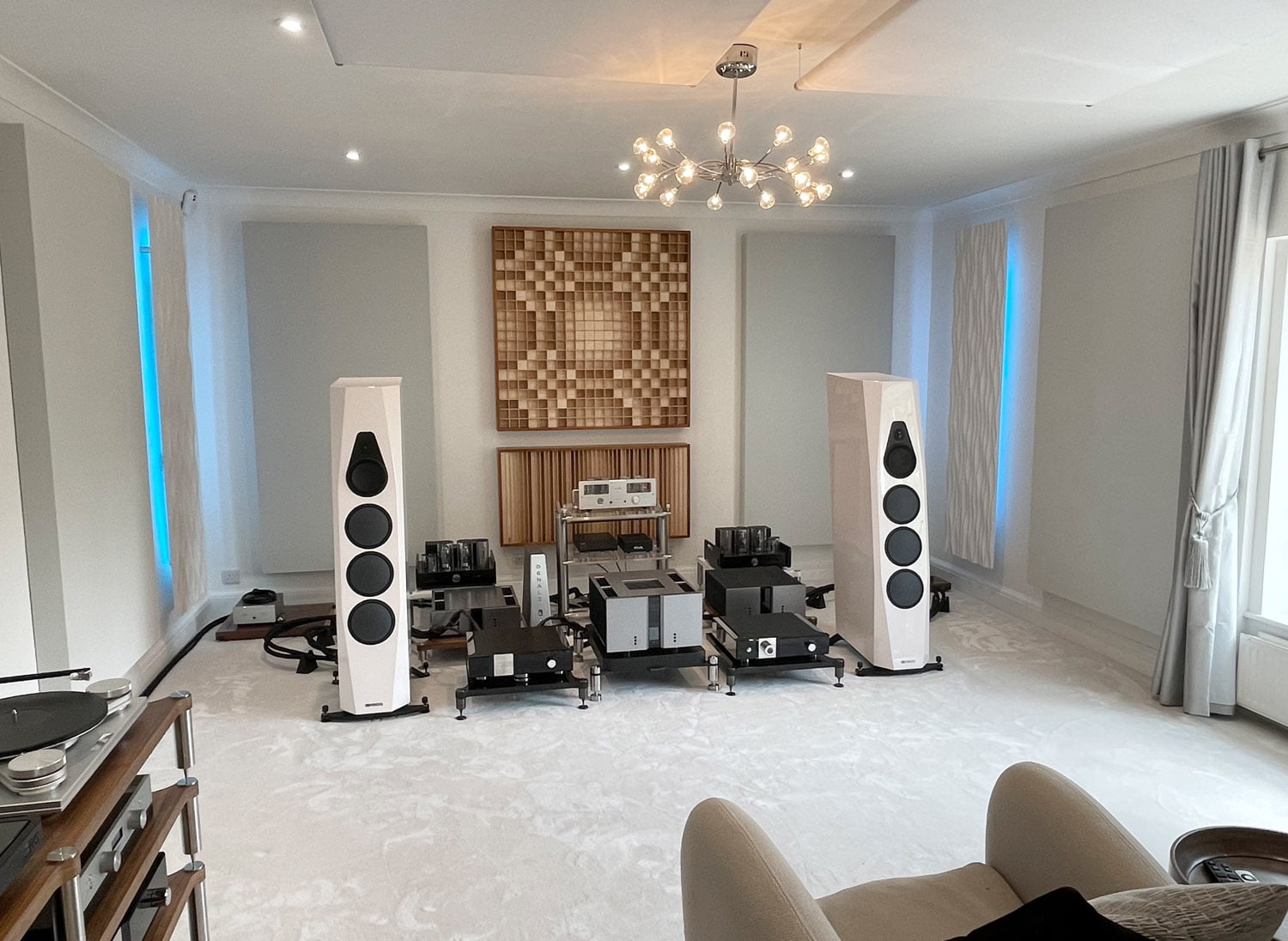 It is well known that the speaker is the most important part of the system and should receive the lion's share of the budget, in part because it's the most difficult component to design whilst there are many modest amplifiers and DACs in existence that sound amazing. So to this end we have been talking about speakers quite a bit here on the pages of LotusHifi.co.uk. With Rockport recently joining Vimberg, Avalon and of course those German masterpieces from Tidal Audio, our enviable line up here is more exciting and exhaustive than ever before.
The Vimberg Mino you probably know about. Out of the same factory but far more affordable than a Tidal, we first showed this speaker at the Ascot UK Hifi show of 2019 in conjunction with UK importers Kog Audio. Soon after a small dealer network was established and over the past 2 years the model has proven extremely successful in British homes. This medium sized full range speaker for most, offers all all the performance you would ever require. So high is its quality level that there are arguably very few systems out there in the UK where a Mino would be limiting. It is also of a size where its bass performamnce, dynamic weight and sheer room filling ability will satisfy most UK listening rooms. All of this at a starting price of under £25,000.
It's partly for this reason that we have tended to give less attention to the Mino's bigger brother these past 2 years. We don't own our own demonstration pair of Tonda at Lotus and most Vimberg enquiries have ended up in Mino or indeed Amea sales. We know that the construction and component choice of Mino and Tonda is identical with the only real differences being cabinet size (approximately 16cm extra height, 2cm wider, 10cm deeper) and driver size (woofers 190mm up from 168mm, ceramic midrange woofer 168mm up from 90mm)  so it follows that the actual sound quality on offer does not really change much as you pay for the larger sibling. The same high quality wiring, the same Mundorf and Duelund adorned crossovers and the same cabinet material and construction. This assumption however is only partially true because with a large heavier cabinet, larger drivers, increased internal structural stability, comes a change in various mechanical properties which ultimately relate to noise floor and transparency. Suffice to say that having just spent a very satisfying 5 weeks in the company of the Tonda Diamond, my unfaltering advice is now to always opt for the larger sibling if budget and room size will permit. Don't even hesitate !
Before we get to the nitty gritty though we should perhaps first remind ourselves of the fundamental Mino character, and indeed the Vimberg house sound first previewed here on this site back in May 2019. This generously apportioned loudspeaker provides a very large open airy delivery with great soundstaging and layering across all axes. The sound is balanced and linear all the way through giving a result that always sounds very natural both tonally and rhythmically. Partly on account of the spread of three 168mm woofers, the Mino has a delightful sense of composure. Whilst ultimate bandwidth is extremely wide and music is hugely dynamic, tracks can almost seem to have been slowed down a touch as the Mino exerts it's smug sense of collectedness, unwrapping the music in a way that makes it feel a little simpler than you ever remember it before. Customers always get the sense that they could listen to them for hour upon hour totally unfatigued. Ultimate resolving power and purity of the Mino is not of course in the same league as a Tidal but is still extremely high, nay class leading, for a loudspeaker at this sort of price point. Whilst the Mino will appear more neutral than many or even all of its rivals, the midrange compared to a Tidal does possess a very slight "valve like" character, ever so slightly euphonic and honeyed. It's this trait though which is sometimes responsible for peoples unanimous and almost instantaneous affection for these speakers. It also is partly why they are so tolerant slotting in happily with a wide variety of systems and equipment. Like all good components, when customers first acquaint themselves with the Mino they very quickly move beyond any sonic analysis of what is taking place and are drawn instead into the musical message and emotion of the performance at any given moment. Nothing sticks out, no errors or weaknesses are present, they just sound "right" and rapidly facilitate a strong connection to the music rather than the Hifi.
For my listening I predominantly employed the most neutral setup I could create with what remained in my demo room at the time (we always have hundreds of kilograms out on home loan at any one time). This comprised our Tidal Prisma preamp with Tidal Intra power amplifier, an extremely high performing set from the very same factory but under the Tidal brand. Sources were the Thrax Yatrus direct drive turntable and the Brinkmann Nyquist 2 Dac using Tara Labs cables and Shunyata mains products. So a level of system at least as good as that of almost any prospective Tonda customer and a usefully invisible and colourless system in which to appraise the bigger Vimberg. You could of course stretch the Tonda even further with flagship monoblocks, even higher cables of the £20,000+ per metre variety and then Tidal's Camira + Arkas, the very best DAC/Streamer we sell, but that level of system would almost certainly want a Tidal Contriva or Agoria in front of it.
Switching to the bigger Tonda then from a Mino, all the elements you expect to be augmented are exactly that. First and foremost, this is simply a far bigger sound both left to right and front to back with a huge degree of air and volume. The audiophile favourite "The Package" by the Thirteenth Step occupies a gigantic amount of space through the Tonda. The feeling of spatiality and ambience between and around all the sounds is quite delightful and you get a very impressive three dimensional rendering of the music's 3d architecture assembled into the room. This is exemplary with the Mino of course too but the bigger speaker just does it with greater accuracy and on a much more expansive stage.
The macro dynamic ability of the Tonda also feels a whole lot larger over the Mino so when the speaker goes from 0-100mph it now feels like 0-150mph. The climatic crescendos in Mahler's number 9, Ziggy Modeliste's funky beat snapping out at you on "Cissy Strut", the intensity build from start to finish on Ian Drury's "What a waste", all of these varying dynamic changes happen with greater total growth in energy and power. No compression, no shrinking of the soundstage, no hardening or loss of delicacy of the peaks and no drop in bass response or control, the Tonda feels utterly inexhaustible with just a bigger diaphragm and bigger stronger biceps than its smaller brother. If you like weight and muscle, then you will likely fall for the big Vimberg rather quickly.
Another area in which the Tonda shine are their sense of presence or immediacy, that all important but somewhat intangible quality of imbuing the music with its very own sense of life, right there, taking place in the moment in your listening room. The Tonda with all their transparency and high resolution, the way they ever so slightly project the sound into the listening space, the huge dynamic ability on offer, and the subtle holographic lustre to their midrange, all of this means that your system sounds very very alive. On Billie Eilish's "Bad Guy" the bass feels truly present, fully ripened into space and hitting you in the chest in the room. Her voice has a vitality and a physical realism to it that is really quite remarkable.
If you imagined for one minute that the Tonda's larger drivers and bigger cabinet might mean a slightly slower and laid back experience, similar to perhaps what we see as you grow the effective length of a tonearm, then you would be mistaken. Despite there being bigger drivers to control and more cabinet to make completely noiseless, the Tonda if anything actually sound faster, even better organised and calmer than the Mino. The fast guitar work of Ani Di Franco's "knuckle Down" sounds incredibly well organised and precise and the tricky bass line in that song is woven speedily into the music absolutely to the millisecond. This isn't an easy track and it will find out many a system for its complexity and difficulty in fully resolving it's bassline but the Tonda pass with absolute flying colours. The coherency seems as good as I remember on the much leaner Tidal Piano which is high praise indeed.
Jacob Collier, Otis Redding, Stevie Wonder, Cymande, Trentemoller, whatever music I tried the Tonda gave a hugely dynamic, bold and generously sized performance overbrimming with life and intensity of performance. The extra weight, scale and air they give over the Mino I found really quite addictive. Unless the room is really limiting their capacity to breathe I would take them over the Mino in a heartbeat. For those who haven't had the pleasure yet, the new Lotus demo room is 5.6m by 4.6m, a decent size and possibly a little larger than most UK listening rooms. The Tonda work absolutely fabulously here. Of course the room is professionally treated acoustically but the main point is the larger Vimberg have a good amount of space to breathe here and it's not a huge or atypical sized room by any stretch. Would they work in a room a little smaller ? Yes I believe they would although too much smaller and it will start to become difficult for them to really flex their muscle and full cubic capacity.
The set that I tried did have the optional diamond tweeter fitted, almost a no brainer if the funds are available. It produces exquisite highs that can pierce and rasp to bring about hairs on the back of the neck realism yet at the same time with greater finesse and refinement than the standard ceramic tweeter so actually easier on the brain and the ear. Instrument sounds are always composed of high frequency component overtones so the Diamond unit affords far greater clarity and realism through the midrange too. Transient speed, time coherency and soundstage precision are also markedly improved.
The punchline for me though to the Tonda story is the price. £30,000 gets you into a Velvetec finished pair with the ceramic tweeter and when you look across at the rest of the marketplace, this is just an enormous amount of speaker for the money and really not very much more over the Mino. I genuinely hand on heart think they are incredible value not just for how they sound but in terms of the finish, build and quality of components used too.
Soon we will look closely at the next bracket up, the £40,000-£70,000 bracket. Tidal Piano Diocera, Rockport Avior II, Avalon PM3, Tidal Contriva so be sure to stop by again soon.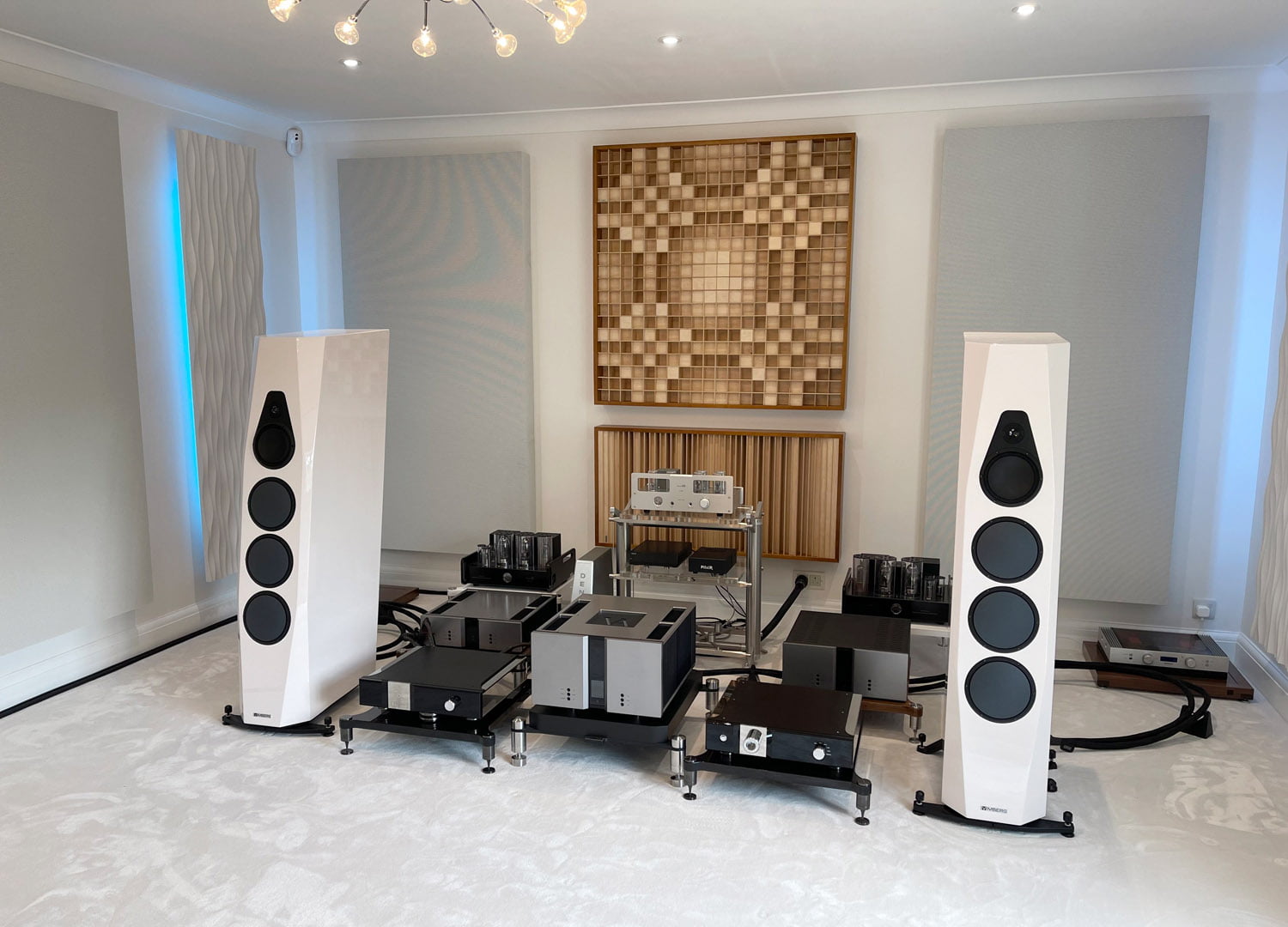 With the Tondas coupled to super-quiet electronics like the Boulder-Auralic pairing, I hear subtlety and nuance that are, in my experience, unrivaled in a speaker anywhere near this price.
I heard one sentence several times over: "That's the best performance we've ever experienced in this listening room." And, to put this into context, we've had an awful lot of equipment in there over the years.
The timing is almost unbelievable, as is the attention to detail and the pinpoint accuracy over the entire transmission range. Seamless dynamics, but also exquisite tonality should please the fans of classical music. In fact, this speaker is sensationally accurate, making it exciting and extremely fun
the real stars of the show, the Vimberg Tonda floorstanding loudspeakers. When I began this downsizing journey, after years of owning six-figure flagship speakers, I didn't think I could be this happy with speakers costing under $40,000/pair.
But these German beauties retailing for a "mere" $38,000/pair have exceeded my expectations in virtually every parameter of sound.
This is a mighty impressive debut that underlines designer Jörn Janczak's confidence in the project. I saw several people visibly shocked when told the price. One thought that it was the cost of a single speaker, not the pair. That tells you a lot about both the Tonda's performance and the quality of the Tidal electronics driving it. But either way, it's an awful lot of performance for the money.
VIMBERG – Lotus blog first UK delivery
VIMBERG Lotus Hifi product page
VIMBERG WEBSITE
VIMBERG LATEST NEWS – from Vimberg's website