PRO AUDIO BONO, "anti-vibration furniture from Poland"
Pro Audio Bono is a Polish manufacturer of audiophile furniture incorporating highly effective anti-vibration technology. The market for effective equipment supports and isolation is a tricky one. Replete with poor value for money and also no end of offerings that are too ugly or utilitarian, the tasteful craftsmanship from Pro Audio Bono is a breath of fresh air. Realistic prices, natural materials, elegant design and ingenious anti-vibration technology, the PAB range of products will transform the performance of your electronics and your turntable.

AVP
The PAB AVP is an ingenious Anti Vibration Platform which floats your electronic equipment or turntable by suspending it on wires, thereby limiting the harmful effects from structure and air borne vibration. The result is a lift in transparency, a wider deeper soundstage and better flow and expression to the music. At Lotus we find these extremely effective under CD players, preamps and Turntables. For the ultimate in isolation we advise the use of an AVP in conjunction with a set of PAB ceramic feet or Stillpoints. Available in a wide range of wood or painted finishes. The high density Acrylic version offers greatly increased performance specifically through the use of acrylic.
Basic, £595
Acrylic, £1200-1250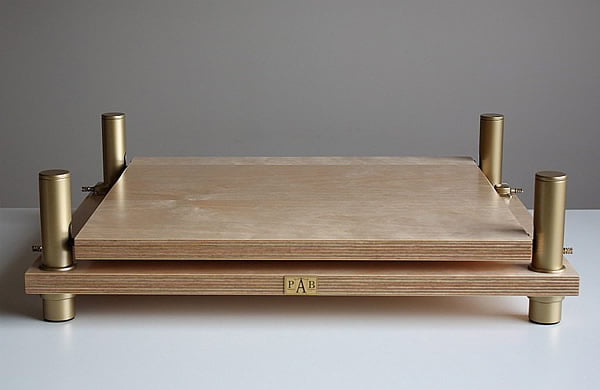 AVP SE
The AVP SE is designed for heavier equipment (up to 60kg). It has a bigger footprint for unusual sized pieces and produces an improved sound, wide and spacious with very good shape in the bass and a clear midrange. The SE is also very suitable for Turntables, both suspended and high mass designs. At Lotus is the first step in enhancing the sound of a decent record player.
large (470×400), £725
extra large (550×450), £850

AVP SE 5
The SE 5 is a special edition flagship AVP designed for the 5th anniversary of Pro Audio Bono. The suspension system is completely enclosed and the unit features ceramic bearings and anti vibration feet. The result is the very best AVP to date.
£1150
SE HAT
The SE Hat was launched in 2014. It is an SE AVP with a thick plywood hat which completely encloses the suspension mechanics. The SE Hat produces a big sound and makes for a fantastic amplifier stand. They can be fitted with a variety of different anti vibration feet. These are very popular here at Lotus for Monos, Integrateds and stereo Amps and can support a huge 68kg.
+metal feet, £1200
+bearing feet, £1450
EQUIPMENT RACK
The PAB equipment rack has suspended shelves much like the technology seen in the AVP. The result is a very natural and flowing sound with good transparency and spaciousness. The PAB rack has a generous footprint which makes it very suitable for larger power amplifiers and highend Turntables which might need a decent amount of real estate. Available in many different finishes and Pro Audio Bono can customise these to order with different shelf arrangements and dimensions.
2 shelf, basic feet, £2250
3 shelf, basic feet, £2650
4 shelf, basic feet, £3100
2 shelf, bearing feet, £2650
3 shelf, bearing feet, £3000
4 shelf, bearing feet, £3350
double width, £POA
CERAMIC NICKEL 5
The PAB ceramic 5 feet were a development from PAB's steel feet using hard sintered ceramic bearings giving less friction than steel equivalents. These are proving very popular at Lotus and in much the same way as stillpoints, mechanically lower the noise floor of the system by helping contain the vibrations inherent in electronic components.
set of 3, £800