Information on this new exciting amplifier from Tidal has been a little scarce, in part because of the singular events of 2020, but the truth is we have been quietly retailing and fulfilling orders on the Intra for almost a year now. Our demo arrived way back last Spring.
So what's the headline ? Well the very clever team from Koln in Germany have essentially upgraded and redesigned the outgoing Impulse with a product that is not only sonically better, but much more geared toward common audiophile trends and wishlists, and at the same time, sports an impressive array of features and implementation options.
The very first remarkable property of the Intra is of course it's size. It resides in the same chassis as the Prisma, Intra and Camira. The days of gigantic 50kg power amps for performance are over if you want them to be then. We reside in smaller and smaller homes these days and our living spaces are littered with all manner of other entertainment options that probably weren't around back in the 1980's and 1990's, those golden years of the cavernous UK dedicated Hifi listening room.
So for its power output and performance level it is a startlingly compact unit but then you pick it up, and realise that it's also actually lighter than the Camira DAC, the Prisma pre and probably the Arkas streamer too ! Hard to believe, but true. And I have to admit that last year when managing director Jörn Janczak told me that this new 12kg featherweight will outperform the previous and quite wonderful Impulse stereo power amplifier, I was slightly sceptical to say the least.
If the size and weight of the Intra is surprising, then more easter eggs await when you take a look at the back panel and spy what is a multitude of connectivity options. The Intra will first and foremost be used as an ultra highend stereo power amplifier and this is the job it is obviously designed for but the overall topography of the unit is characterised by two completely independent stereo modules with their own power supplies. So whilst in ultimate stereo operation you are using one dedicated power supply for one single channel per side, the Intra also sports dual outputs for each module which can be employed in passive or active bi-amping, driving two channels per speaker. This versatile configuarion also makes the amp sutable for a high end multi channel setup and as if that wasn't enough, the Intra can also be bridged for use in subwoofer applications or even a true monoblock mode.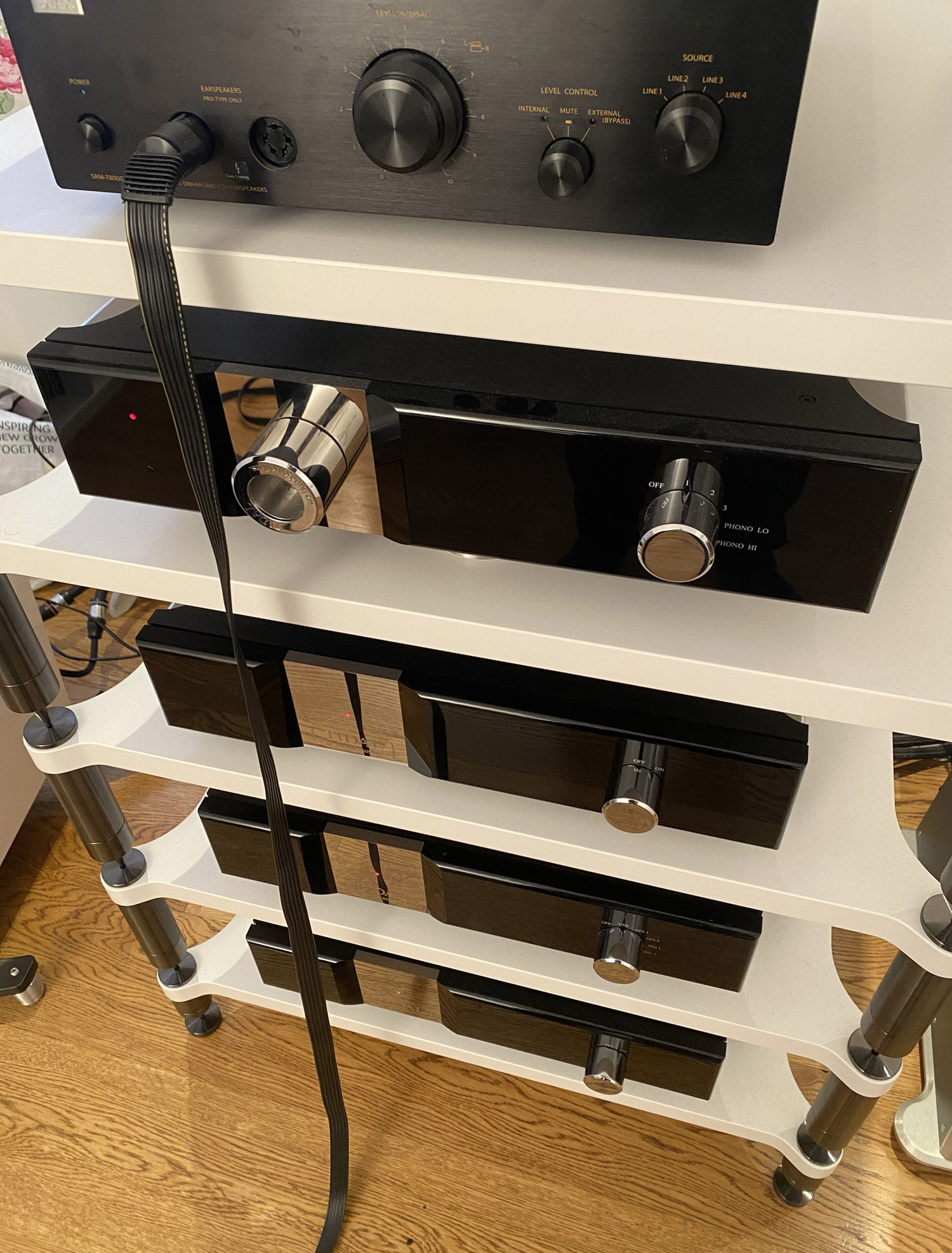 Space at the rear can seem a little tight around the speaker connections and the use of 4mm banana might be a good way to go, but generally I haven't really run into any serious diffculties in all my customer demos and uses at Lotus HQ. Spades can generally enter from the 10 and 2 o'clock positions and then point downward slightly and then connect up to the terminals.
Plethora of XLR inputs aside, the final element to mention about the rear is the standard Tidal remote link which allows direct connection to your preamp and conveniently hands over power on/off duties to just the one switch on your pre.
You would be forgiven for suffering a psychological expectation bias effect when going from a very large power amp resplendent with a very generous dosage of heatsinkage, to a lithe, slimline batamweight amp that barely ever gets warm. But the moment you play music through the Intra, it's immediately apparent that it is more true, more transparent and even more pure than the outgoing Impulse. It doesn't feel leaner as such but just cleaner, like you can peer through the music with even greater vision and the final horizon line is even further out into the distance.
The Impulse was definitely one small fraction warmer but you don't miss this but rather celebrate the better neutrality and honesty of the new amplifier. Presentationally it remains exactly the same, fluid, effortless and calm and nothing really like a solid state amplifier; instead a Tidal through and through, super refined, organic and supremely natural.
What about power, weight and dynamic ability ? These elements are pretty close so it is more difficult to compare but I would say that the Intra has lost the very small degree of lower bloom that the Impulse had and therefore at first acquaintance feels slightly less dense. It's not that the Intra has less weight though, more that it has higher transparency and with that comes further unravelling of the shape, depth, pitch and space around bass notes. We often see in amplifiers and loudspeakers that better transparency in the bass leads to less of it, more of the time, but perhaps more of it when it is actually present, and less of a subwoofer effect if you like, and I think this may be going on with the Intra slightly. The amplifier has such extreme clarity and absence of residual noise that not one gram of bloat or bloom is detectable anywhere in the frequency spectrum.
In the UK we feel we have been sensible and very fair with pricing. The Intra is a better Impulse no question. One could argue that you get to own less physical "stuff" but inside where it matters, the technology is newer and cleverer.
The chrome sides and fascia come as standard on all Tidal products now and the upshot is that the Intra is pretty much the same price as the outgoing Impulse as it was designated in around 2017, so the new amp has essentially escaped a couple of price rises that would have ordinarily come about because of inflation and Brexit.
Moving up the Ferios mono amps is a step change of dramatic proportions. The middle range monoblocks have a calmness and authority which is rare at any price and as you'd expect they are quite a degree more transparent and resolving again. The Intra though is the Tidal Amp for most. Extremely versatile, perfectly matched both sonically and visually to it's Arkas, Camira, Prisma siblings and with a form factor which very much suits in the UK mindset and the UK home.