THRAX AND LOTUS – THE EARLY YEARS
I have been strong a admirer of Thrax's separates for many years now. Over the last 10 years I had encountered them several times along my travels and sometimes through other manufacturers I work with. The look, the philosophy, the design principles and of course the house sound and sonic ethos, all were facets that impressed. When I began with Dohmann turntables back in 2017 I actually formed a working partnership with Thrax's MD Rumen Artarski because he was responsible for the manufacturing and ordering process for the those decks. I found that I was equally impressed with Rumen's business sense, care and attention, and drama free "can do" way of operating.
The full Thrax product line then was always an active and compelling option for me to have in the Lotus portfolio but it was actually in 2018/2019 with the arrival of the Enyo and Ares single box audiophile solutions that the product range became too attractive to ignore. As many of you know, I have long been a very staunch advocate of the Integrated Amplifier in the way I build systems. Single chassis units like the RI-101 and SIA-025 from Vitus Audio have been proving for 7 or 8 years now that 2 boxes or more is not strictly necessary for a really stellar system and an exemplary single Integrated amplifier can quite easily rival or eclipse, a high end pre power costing a lot more money. Integrated amps are also the current fashion and requirement in the UK market. We have small homes and small rooms, busy lives and various other forms of home entertainment.  So many people these days generally want the best sound from a small setup that required very little real estate.
BUILDING SYSTEMS WITH INTEGRATEDS
There's another reason why Integrateds are so important and that's because I believe in building a system around the very best speaker first and then after that, often spending more on the source and cables as opposed to the amplification. Amps like the Vitus RI-101 can easily be the foundation of a £100,000+ system and still not be lacking. An expensive pre power is of course a wonderful luxury but should you be putting your money into that yet plugging it into mediocre speakers and ancillaries ?
Both the Thrax Enyo and Ares then – essentially valve and solid state versions of the same amplifier – not only further strengthen and enrich our hand when it comes to building systems from Integrated amplifiers but they also provide a very enticing and cost effective doorway into Thrax ownership. Just as the Vitus RI-101 can house an internal DAC with streamer board for an additional cost, and can therefore produce a genuine single box system, the Thrax Enyo and Ares can also be specified in exactly the same way with an additional DAC/streamer module with a host of digital inputs. Incidentally, an internal RIAA phono stage comes as standard on both Thrax models for the base price, meaning that they are perhaps better described as a complete 'modular Audiophile system'.
Does this mean I am  turning my portfolio focus away from the Vitus Integrateds ? No, of course not. Apart from anything else we have many many very happy Vitus customers and have a highly developed infrastructure and skillset for creating rigs from the Danish brand. Rather, it means I am simply specialising in this type of solution even more deeply and letting people know that if you are in the market for this type of amp, then you really should be visiting Lotus so you can consider the Thrax options as well, after all Lotus is a business and it's in our interests to differentiate ourselves from the competition and create ever more compelling reasons to pay us a visit. Making ourselves even more specialised and desirable as a dealer when it comes to the high end Integrated amp may of course simply lead to more Vitus sales than before so really, all brands benefit ultimately.
The person who benefits most though from this diversification and enlargement of product is you the customer and certainly, with the choice of Thrax Enyo, Thrax Ares, Vitus RI-101 SIA025 and SIA-030, Allnic T2000 30th Anniversary and the forthcoming Brinkmann Voltaire, it's now one hell of an enjoyable ride for anyone to come shopping with us. You will probably like all of them as they are ALL very special but you can also be sure that you'll favour one above all others and that will be the one you walk home with.
Without further ado then, let's get straight into the £10,995 Enyo. Note that I will follow this article up very quickly with a report on its all transistor based twin brother the Ares, very much the same amplifier but with a slightly different presentation. Rumen told me from the start that the reason they both exist is because they couldn't decide which was better, so you can probably expect a glowing report from the Ares too. My demo unit is currently being run in and additionally appraised by a colleague as I write.
A quick word on specification but feel free to use the links below to garner more detailed technical information. The Enyo comes as standard with built in MM/MC Phono input with switchable gain inside. This isn't some afterthought slot in card but a very credible phonostage all in it's own right. Don't imagine that the phono input is Graham Slee / Lehman black cube / Tom Evans microgroove territory. We will know more as we go along but my hunch is to replicate a similar quality with a separate chassis unit you will probably need something in a £2000-£3000 area plus of course another good interconnect.
The same applies to the DAC module, yours for just an extra £2900. We already know from 7 years of Vitus home demos that the RI internal DAC for similar money can be preferable to many DACs costing an awful lot more (KDS/3, Perfectwave + Bridge, HUGO TT2+MScaler, Bartok, to name but a few) and the digital in the Enyo is no different being distilled down from the flagship £28,000 Maximinus, one of the best DACs I have ever heard.
The Enyo is of course a vacuum tube design but like all of Thrax's tube adorned creations, the tubes are out of sight, auto-biasing and need no adjustments, maintenance or special consideration. This is tubes for solid state guys and if the 50W puts you off, don't let it. The word on the street is that the Enyo is actually more adept at driving difficult speakers than the solid state Ares. The amp is actually designed for speakers with a minimum sensitivity of 87–88dB which means that it's operating at around 4–5 watts 95% of the time. Tube life is around 1000-2000 hours and all can be replaced very cheaply for under £200.
The rear panel shows a very heavily specified product. We have three single ended analogue inputs, one XLR input, Bluetooth input, 4 and 8 ohm speaker connectors, a much appreciated rear mounted master power switch below the IEC socket and then of course populating the one single modular Digital board (which can be upgraded as and when developments appear) are USB, AES, Optical, Spdif and LAN inputs. The DAC and network module can accept data up to 32-bit/384kHz and DSD128 and is Airplay, DNLA and Roon ready (pending certification).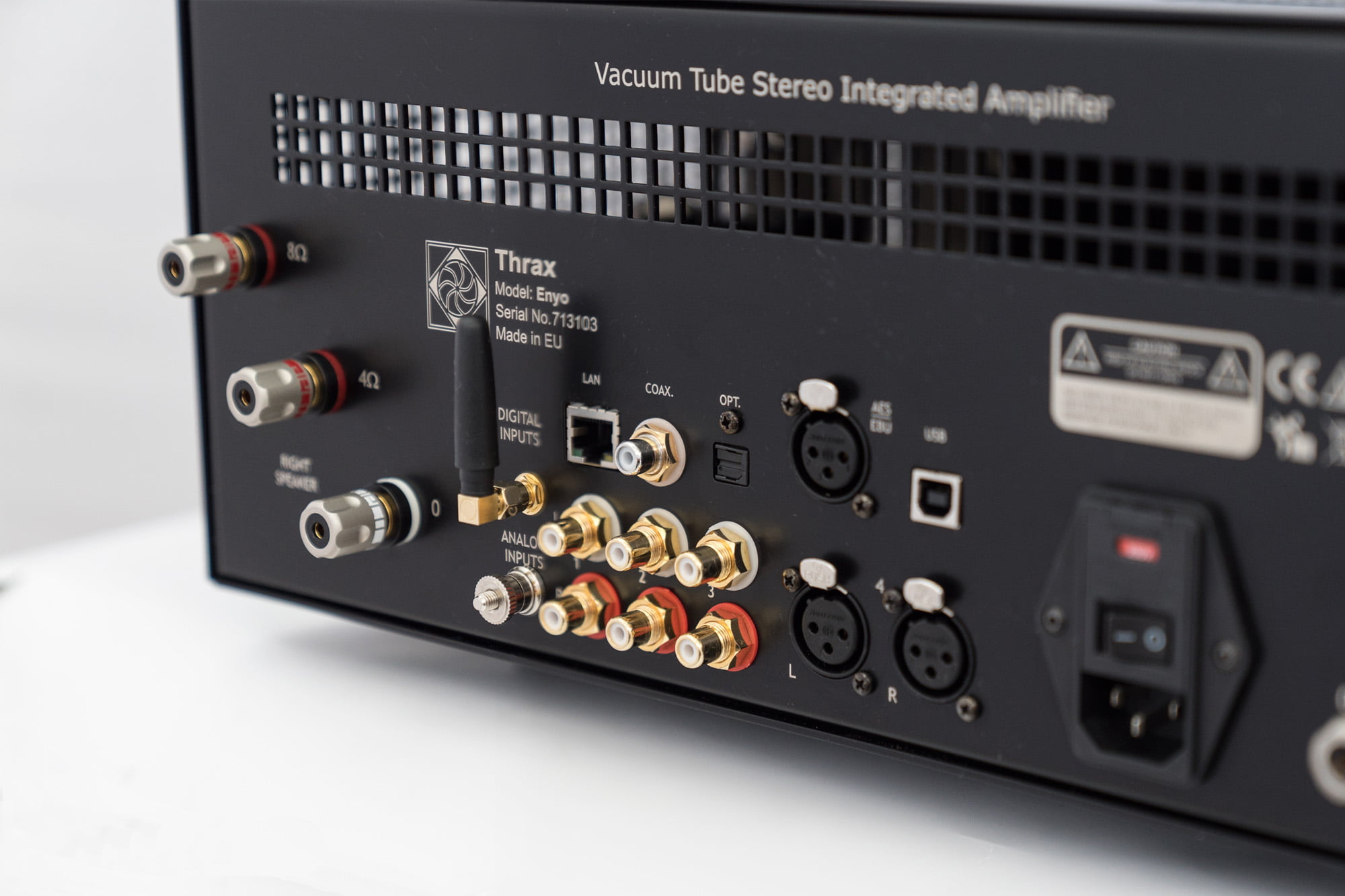 At the front we have soft touch buttons and a large TFT display. As the buttons are in a single line, operating it takes a small degree of acclimatisation but overall I find the Enyo very straightforward to use and the menu system is easy to read and comprehend. I was initially worried about the super soft touch operation but in practice I find them quite satisfying to use. The unit comes in at just under 30kg so significantly lighter than an RI-101 and most of that weight is at the front. Take a peek through the casing and the workmanship looks very neat and high quality with particular mention for the robust protection cages for the output tubes. The front panel also looks superb in the metal, elegant and minimal with a sturdy and powerful look. The simple folded sheet casework surround is perhaps where some money has been saved to be put into the components (much like the RI-101) but then the final look here, and on the back panel, is reminiscent and not inferior to that which you would see on a £35,000 piece of Audio Research. Completing the product package is the convenient to replace apple style remote, the smart instruction manual and the sensible and sturdy metal flight case.
On the rack it looks good. Very good in fact and better than any pictures can convey. Purposeful and powerful but special and elegant too. Ironically it actually looks even more visually arresting when flanked by my two demo Tidal Ferios mono amps, with a matching mix of black and mirror polished metal on the fascias. It's no surprise that I am a fan of all of Thrax's machining, from the Yatrus turntable to the aluminium housed standmounts and the uniquely sculpted reference electronics. Rumen has his own distinct style and there is always a feeling of heft and engineering prowess with everything he produces. It's all done in house as well, another trick which seems to help hugely with fast delivery times of all Thrax equipment.
Let it be known that for my initial break in an listening I used the Enyo in some pretty lofty setups. In the higher setups, the mains cables, mains distribution units, analogue and digital cables connected into it were at some points up to twice or three times its own value again. For speakers I tried it with the £18,000 Avalon PM1 right up to the £48,000 Rockport Aviors. Never once did it seem like a limiting piece of the jigsaw. Arranging it in this way meant that not only was I dropping the noise floor of the system to near zero but neutrality and transparency to source was at such a high end level that I was able to fully comprehend all of the Enyo's  ability and peer into every last strand of it's genetic DNA.
First and foremost, the Enyo like nearly all Lotus superstars, is utterly neutral and faithful in its reproduction of music. Although it's a fully tubed amplifier, it neither has the kind of over saturated harmonics one might experience on a 300B triode design (or indeed anticipate from the phrase 'valve amp') or the whiter more bleached delivery of say a KT6550/120/150 unit. It does not add warmth but then it's upper midrange and treble isn't accentuated or hot either. There is absolutely no bloom or 'tuned in' exaggeration anywhere in the spectrum and although notes have superb body and density this is without ever feeling over egged or embroidered. The Thrax just telegraphs the source in exactly the way it should, focusing on amplifying the signal rather than altering the sound in any way or adding it's own sort of signature.
If there is a sense that you might be listening to a valve design though, then it is surely in the amp's beautifully adept skill with space. The soundstage of the Enyo is not only massive for an integrated amplifier and akin more to a top quality pre/power, but it is voluminous and sculptural with great front to back depth and a feeling of the music having specific positional physical form in front of you. Solid state simply can't quite match this level of special holography. It can get close but will always feel slightly flatter by comparison. Within this firmament of space the Enyo has a very engaging way of conveying musical interrelationships between different musicians, instruments and parts of the music and this is obviously a major contributing factor in it's strong sense of realism.
What about dynamics ? Well nobody needs to be concerned about the modest power rating, the Enyo has a forthright and jubilant way of presenting the music with a very large degree of presence and dynamic potential. The bass is powerful, dimensional and very palpable and tunes that are underpinned by drums and rhythms do not lack speed or propulsion in any way. To use that old cliché,  music from the Enyo sounds pressurised and potent, with very strong dynamic contrast at the finer note and instrument level which is great for low level listening too. This sense of pressurisation is inextricably interlinked with the amplfier's first class 3d soundstaging ability and combined with the very high level of resolve, all adds up to a presentation that just sounds extremely alive and vivacious.
This then is probably the biggest standout character of this amplifier. The Enyo has a joy and an eager exuberance to the way it brings you the music that is deeply compelling yet without ever sounding forced or like it's trying too hard to be something. It makes listening sessions so enjoyable. Like the Vitus though it still sounds eminently natural and will host very long listening sessions completely free of fatigue. The harmonic ability, physical tactility and dimensionality of the amp imbue proceedings with a very high degree of realism as well, deeply impressive for this sort of price point. As if that wasn't enough, the factory also state that tube rolling to a NOS Telefunken input tube for just a few hundred pound will push the performance of the amp even further.
What about the Enyo DAC module in isolation ? I would say it's character is very much in line with the above. Dimensional, joyful and bold and of course very organic and analogue sounding with not a hint of any digital signature. In raw performance terms it is clearly is in very similar territory to the internal Vitus DAC. Yes there are plenty of very expensive DAC's we sell that will give greater performance but when you sit and enjoy the Enyo as a single box solution it never sounds wanting or has you pondering or lusting a DAC upgrade. The overall solution is just so completely authentic, convincing and satisfying. I imagine that much like we have seen with the RI, many customers purchasing an Enyo or Ares, will be opting to let go of their expensive DAC's to help fund the Thrax combo – the Chords, the PS Audios, Aquas, older dCS, the Naim NDS's and Linn KDS's – some of these might offer some initially appealing swings and roundabouts strengths when A/B'd but overall, my hunch is none of them will able to fully build a convincing case to retain them over the far cheaper Thrax solution which is from the same factory, requires zero rack space, requires no interconnect or mains cable and is clearly imbued with far more sonic synergy than any third party product. If you do want a genuine step up from the Enyo DAC then it will need to be of the calibre of the Vitus RD/SD, Brinkmann Nyquist or beyond.
The Enyo has high output impedance and likes large speakers as well as small. It deals well with any load and worked splendidly with the big Rockport Aviors. What a fabulous system that was. A £11,000 Integrated with £48,000 speakers and the best DAC that the loose change will buy. That is exactly the way I would probably do things if it were my own money. The Vimberg Mino and Tonda are an easier load again and the Enyo seems to love both of those designs too. My personal preference was probably more for the slightly darker Rockport but the Vimberg is a little more holographic in the mids as a starting point so in tandem with the Enyo the 3d soundstaging was really quite wonderful with huge amounts of air and ambience percolating through the music. I can see customers going either way, they were both extremely happy combinations.
To be fair the Enyo was also a great partner with the Tidal Piano. It had the resolution and grainless purity that the Tidal likes in the upper registers. In fact Tidal Audio's main man Jorn Jarnczak had forewarned me late last year that he was a fan of the Enyo with Pianos as a intro system and he was not wrong. When I set it up with the Avalon PM1 And Ideas though, I thought for a moment that I'd perhaps found the very best marriage of all. Avalons traditionally were often mated with the finest imaging amps such as the old Conrad Johnson ART series and the Spectral electronics from California. It's one of the reasons why the Class A Vitus gear enmeshes with them so beautifully. Avalon are masters of timbre and textural cues as well so the Enyo played to their strengths beautifully. In truth though, the Enyo is so speaker tolerant and so neutral and transparent that it really worked to great effect with every loudspeaker I threw at it. Soon we will trial it with Thrax's own transducer, the gorgeous aluminium cased Lyra standmounts. The guys over at Anamighty Sound in Paris tell me it works wonderfully.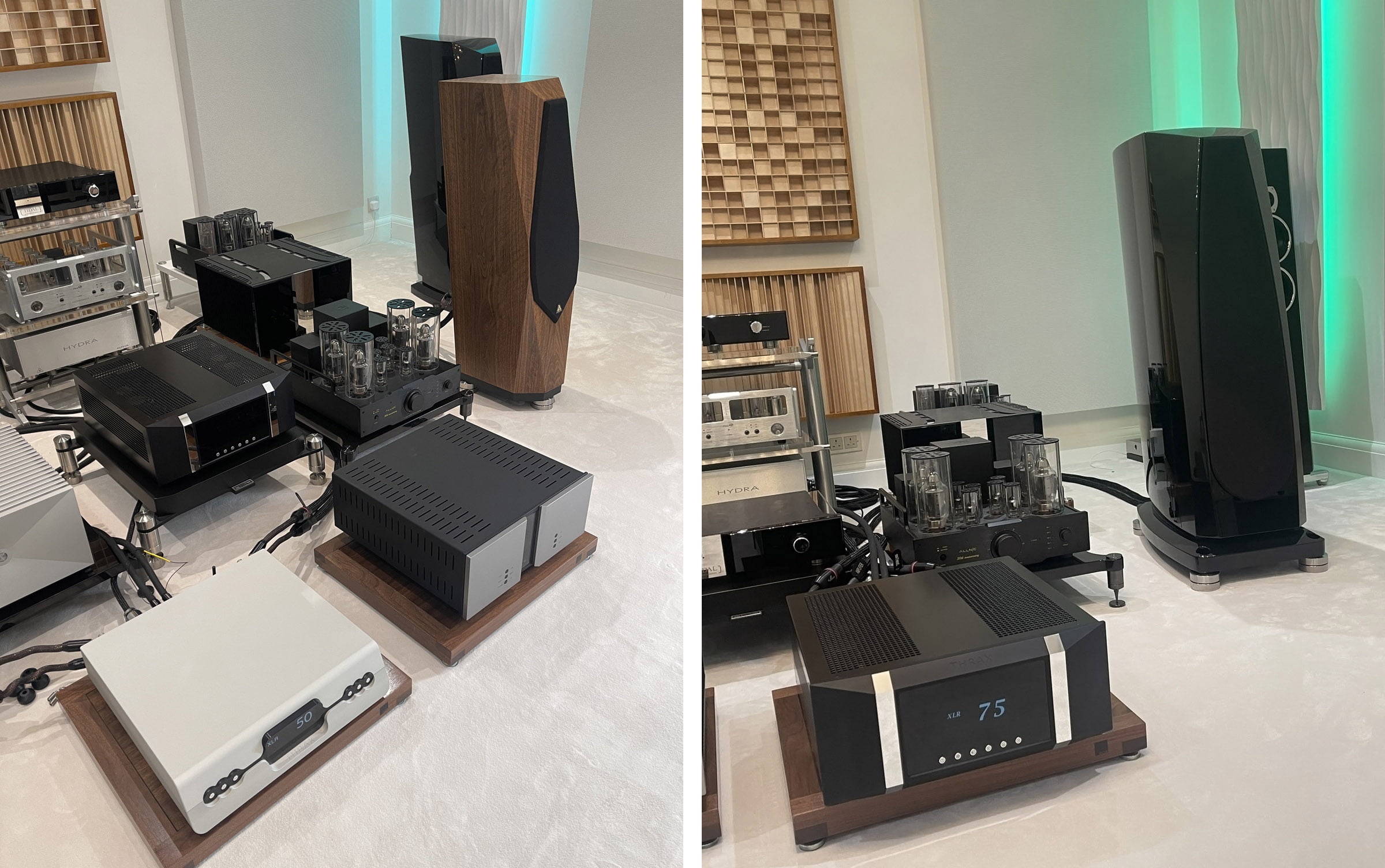 ENYO vs. VITUS RI-101 MK2
Naturally this comparison was something I did fairly early on. It's an important one. I need to be able to advise customers with absolute precision about how these two five star products compare and contrast. Although the Vitus is a little more expensive, they do the same job at a similar price range and both can be fitted with an onboard DAC/streamer for around the same money. I will repeat the exercise again when we review the solid state Ares in just a few weeks time.
It's fair to say that the RI-101 mk2 has a kind of measured character to it. It is a tighter sound with a greater feeling of control although that extra control renders it a more reserved performer, almost as if it is holding onto everything a little. This reserved, more restrained approach though is a strength in other ways. Like everything, it depends on what you value most and what weaknesses and strengths reside elsewhere in your system. The RI partly on account of it's more reserved personality sounds extremely elegant and refined and music is delivered with much care and order. Tonally, it also has a slightly shy treble. Crisp and gentle highs that are at times quite beautiful but always at a slightly recessed level in the overall mix. As we have seen for the last 8 years of pulling people out of Naim and popularist UK grown hifi systems, the Vitus treble is often an absolute saviour for lesser quality speakers and cables that customers might have to live with for a while longer.
When you switch to the Enyo the tightness has lessened and the music feels like it has been allowed a little more freedom. Not just in the bolder way in which it projects into the room but also the slightly larger and more dimensional soundscape that is conjured forth in front of you. The treble is more prominent and there is a sense that it is holding nothing back. Perhaps this makes the Vitus seem a touch warmer at times but then the Thrax never sounds bright or toppy. Which is allowing more detail through ? That's difficult to say because the RI is more modest or less ostentatious in the way it shows you resolution but the Thrax is certainly at least as resolving.
Does that mean that the Enyo is like an SIA-025. No, the SIA has an addictive style all of its own. A large dose of the classic Vitus Class A sound; smooth, organic, soft edged, reassuringly warm with a beguiling bloom in the lower mids. In terms of 3d ability and feeling of aliveness, the Enyo is closer to the SIA than to the RI-101 but then closer to the RI in terms of its speed, neutrality and linearity.
To distil it down to simpler terms. The RI is tighter, neater, more staccato, gentler in the top end and with slightly better punch and stability. The Enyo is more flamboyant, more extrovert, more flowing, more generous in the treble with more capacious imaging. But understand that both these products are the best of the best at this sort of price level. You are comparing the very last few percentage points of the above mentioned abilities. So I must make it absolutely clear that the Enyo never sounds the slightest bit ragged or imprecise or bright and the Vitus never remotely shut in or lacking in life, 3d or presence. Only by comparing them back to back can you appreciate the small shifts in these parameters from one amp to the next.
Which you prefer will be a combination of how you personally like your sound, what sonic attributes you favour most and how it will dovetail into your system. One thing is for certain, I have heard many many amplfiers in my time and these two are absolutely top of their game. I won't be steering you one way or t'other because I genuinely think they are both equally as good and you would have made a superlative choice no matter what you walk out with. I have built probably hundreds of systems with Vitus electronics and set up properly, they satisfy in a way very few other things do so it's a huge testament to Thrax that they can be considered to exist at the same level.
Indeed, Thrax in just the first 8 weeks here at Lotus is off to an absolutely flying start with a whole glut of continuous sales and I am sure it will now do amazing things here in the UK under my stewardship. As we have seen time and time again, you get a tremendous amount of value from a smaller more specialised boutique outfit and products that sonically punch way above their weight. I am really looking forward to the next phase of demo equipment arriving here which will include the Class A Heros monos and the Lyra speakers. Be sure to check back soon in a couple of weeks when I will add in my report on the Ares which will place a third compelling offer on the table at this same price level. The popular audio enthusiast website HifiWigam are also currently reviewing the Enyo for me as well so will be publishing their report very soon too.