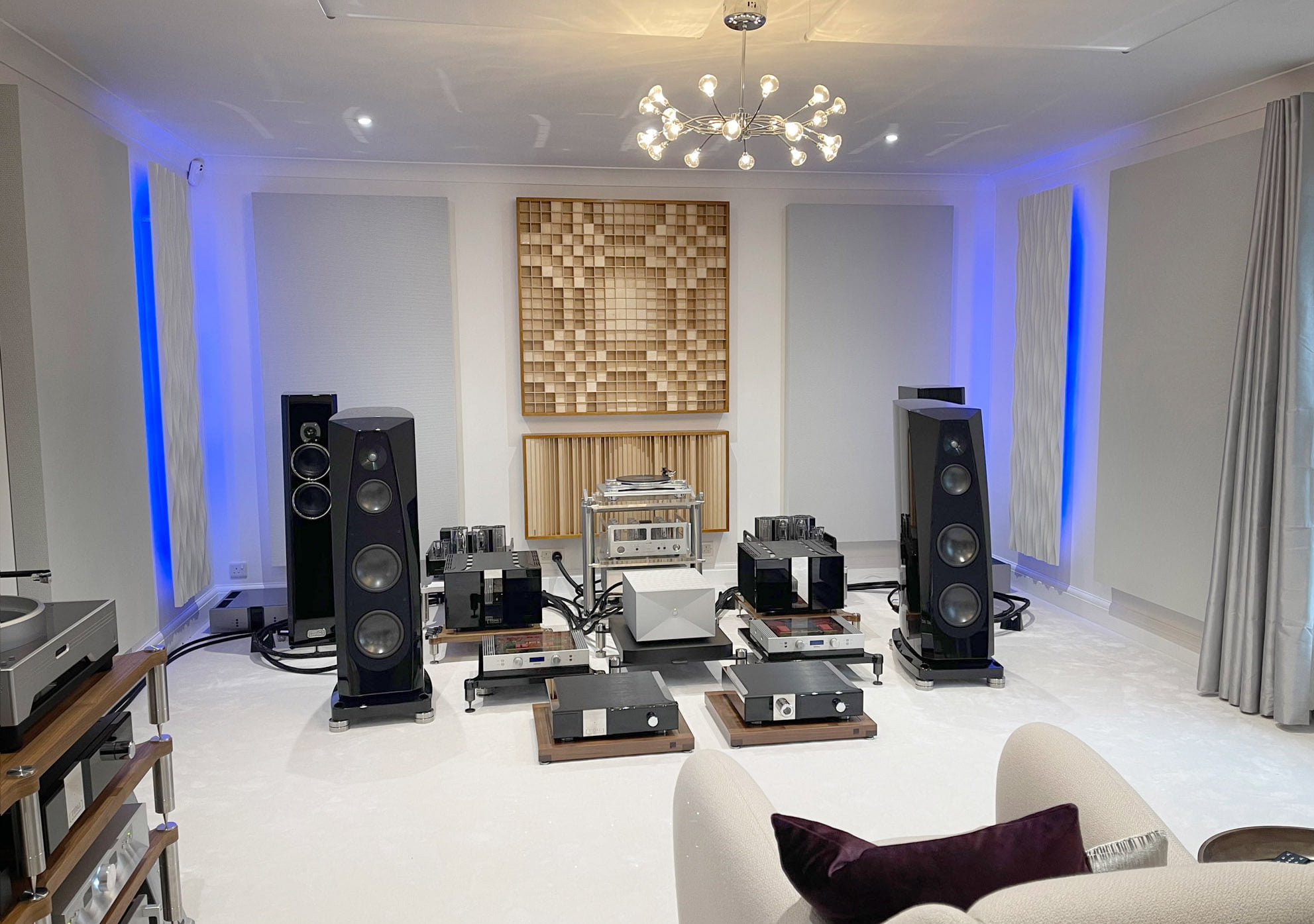 Rockport have been with us for a good year now. Anyone who has heard the entry £32,000 Atria floorstander here has been profoundly impressed and it's no surprise that actual sales of this outstanding product began very quickly in 2021 and demos on new enquiries are still going strong early 2022. I wrote exhaustively about the Atria II back then and before you dive in deep here, it might be worth reading that article first, as a detailed introduction to Rockport and the house sound.
As that article mentions, the Avior, first created some 10 years ago in Mk 1 guise, is the original dye from which the smaller Atria was later made. They are therefore both very similar in topography. Same cabinet shape and construction, same drive units and same crossover technology and components. Like Tidal then, Rockport don't dumb down the cheaper models with reduced sound quality. The Avior II however is adorned with an extra woofer and a wider and deeper cabinet. It should be stressed though that neither model look cumbersome or visually over powering in the flesh. Much like the Avalon Idea or PM1, these are speakers which always look smaller than people expect from photographs. Yes, the Avior look thick set and sturdy and they are extremely heavy at 99kg each, but they are actually only about 7cm taller than the short Atria and much of that extra weight is in the larger girth and footprint. A Vimberg Mino or even a Tidal Piano is a taller looking speaker and potentially more difficult to visually blend into a room.
These beauties in the standard polished gloss black have actually been on loan to me from UK importers Padood since mid December so I have been enjoying them to the full and have also had ample time to test drive them with pretty much every amplification type that I sell. Regular customers will know that it's not enough for me to simply review a new product. An item as important as the Avior, the potential cornerstone of an extremely high performing and expensive system, needs to be understood fully in terms of how it integrates and synergises with other principal Lotus products.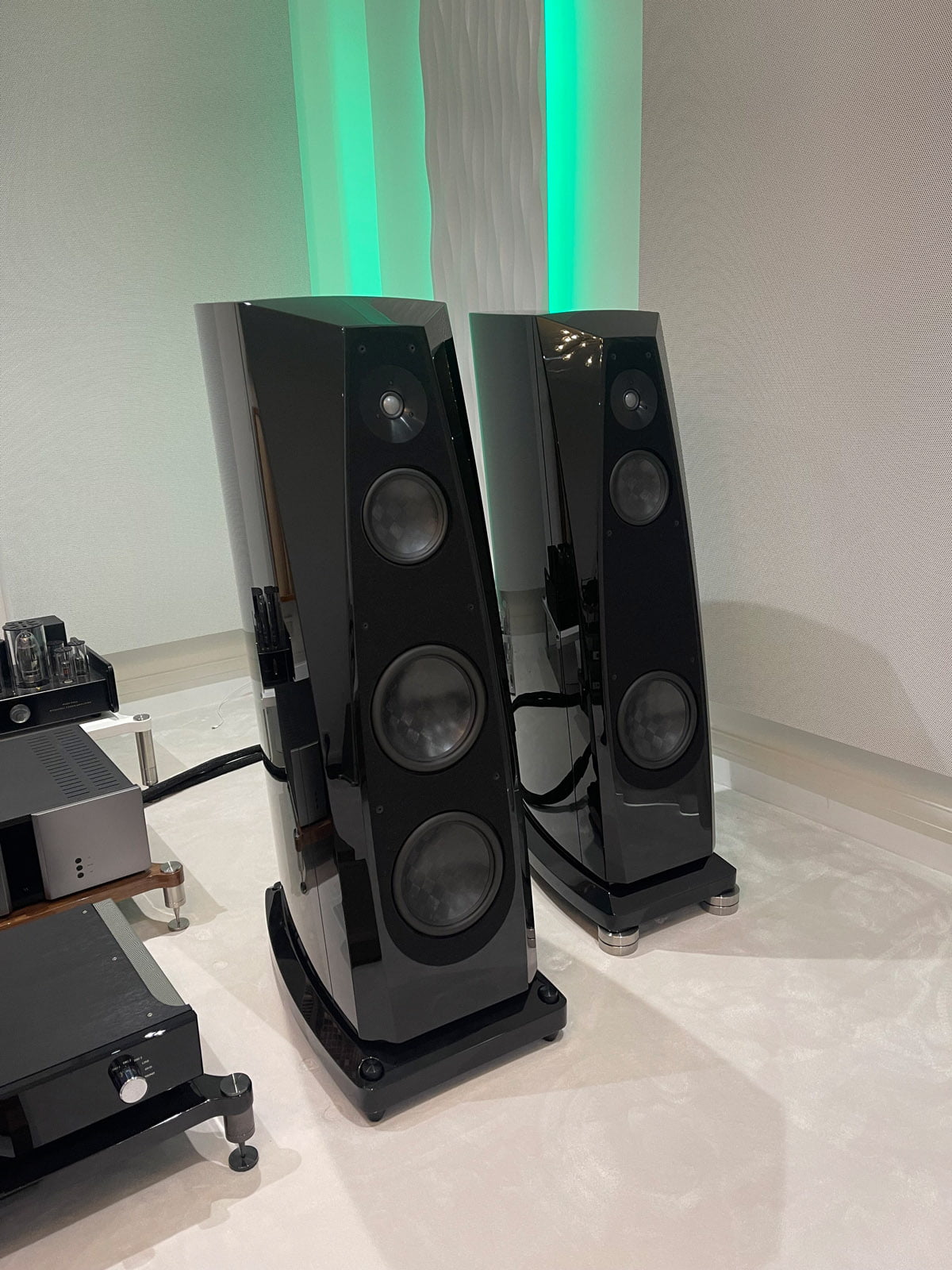 So what can one expect from the supercharged Atria from Maine ? Well, as one might imagine, a move to Avior from Atria is not unlike the progression from Vimberg Mino to Tonda and one can read in full about that particular change in my Tonda review.
Reassuringly, the Avior from the get go, does not change flavour one iota but possesses all the wonderful qualities of the Atria. Its extremely high level of refinement, its balance and neutrality, its luxuriant grandiose and highly elegant voicing, its stability in the bass and sense of rhythmical calm and groundedness, the music seemingly cast from a giant meteor of stone right there in your listening space, physical, palpable and delightfully solid and surefooted. The Avior has exactly the same Rockport balance of sound which myself and customers love so much; generous and exceptional bass performance, high density and weight married with silky, refined and measured highs, which never fatigue or exhibit a sense of excess detail or air.
What is also obvious from the first few tracks is that the supercharger is thankfully wound up and present all the time. The Avior II take all of the muscularity, authority, power and intensity of performance of the Atria to a whole new higher level of drama. Now we have a fullness, a density and a physicality to the music which is much greater again. The macro dynamic operating range, the shifts between fully loud and whisper quiet, is simply vast. Climactic sequences in film scores, classical orchestral crescendos and the staccato hammering of fast and deep electronica turned up to 3 o'clock all have a dizzying and deliciously hedonistic effect on the listener. So much drama and life, so much musical intensity and passion. It is difficult to imagine any home listening environment in the UK needing more scale, more dynamics and sheer room filling ability than what the Avior II effortlessly serve up.
Of course from an extra woofer and a bigger cabinet you would imagine that music with weight, scale and drama  would be deeply impressive and that is most certainly true but equally impressive perhaps, is when you play tracks punctuated by large passages of silence and quiet. On this type of music, the backgrounds were just so completely black, and individual instruments and voices were so ripened and purified to their absolute real cores that the sense of absolute living realism created in dimensionally precise spaces in front of you was at times startling. Damian Rice "O" was a fine example of this strength of noiselessness and out and out resolution and expression; the Avior's have a habit of revealing the music to you in a very physical corporeal manner.
If the Atria have an ironclad stability and an Olympian feeling of command and control, particularly in the lower registers, then the Avior II take this hugely gratifying aspect of the Rockport sound to new heights. Mark Hollis' "Inside looking out" was cast into the room in such a deliberate, measured and grounded fashion that it totally belied it's origin as a series of electrical impulses running down a wire into a transducer. There was no glare, no noisy highs, no hash or detectable trace of any electronic process whatsoever, just a pure organic precipitation of pressurised melody into the demo room.
Whilst bass lovers will adore the Atria, they will fall in love even harder for the bigger sibling. The Avior go deeper with even more transparency and cleanliness. Not a millimetre of smear, muddiness or unnecessary boom, not an ounce of bass unless it's in the recording. The transparency and accuracy they offer in the lower registers must surely represent a lesson to an entire industry. Yes the Avior are not a compact speaker but the clean, punchy and full-bodied bass would embarrass many a floorstander which occupy far larger cabinets. In this respect they mirrored the Atria which also offer bass ability which seems so completely at odds with its compact size.
In summary then, the Avior are a highly transparent and resolving panorama, capable of telegraphing the finest musical shifts and subtleties whether they be in the domain of instrument weight, volume, position in space, pitch, harmonics or time position. All of these facets are truly standout and in a way expected from a  speaker positioned at the very highest level of the craft. But as a Rockport, it is perhaps the speakers performance in the lower frequencies, it's feeling of density and fullness and sheer low end grunt and muscle which perhaps characterises it's performance more than anything else. It is here, and in the field of it's dynamic ability where it builds significantly upon the Atria.
In one way, the Avior II actually builds a strong case for the Atria II and reminds us just how perfect and attractively priced that speaker package is. At £16,000 less you get nearly all of the actual sound quality and almost all of the same physical components too and the Atria probably has enough heft to satisfy many listeners. But just as we saw in the Tonda/Mino comparison, the Avior II simply provides an even more immersive and emotionally charged listening experience, particularly if you favour light and shade, strong shifts in dynamic energy, classical and orchestral, film scores and driving hard hitting electronica. If the Atria II are a fine Meursault Perrieres, the Avior II a Grand Cru Montrachet, indulge the senses several grades further. Unless you are limited by budget or room size, you would simply always purchase the Avior over the Atria. The drama is higher, the emotional engagement is deeper, the experience of listening to music even more profound. Needless to say they thus represent a very important fixture here are Lotus and a milestone step in our hierarchy of systems so I have ordered my own demo pair in the very seductive Ferrari shade of Grigio Titanio.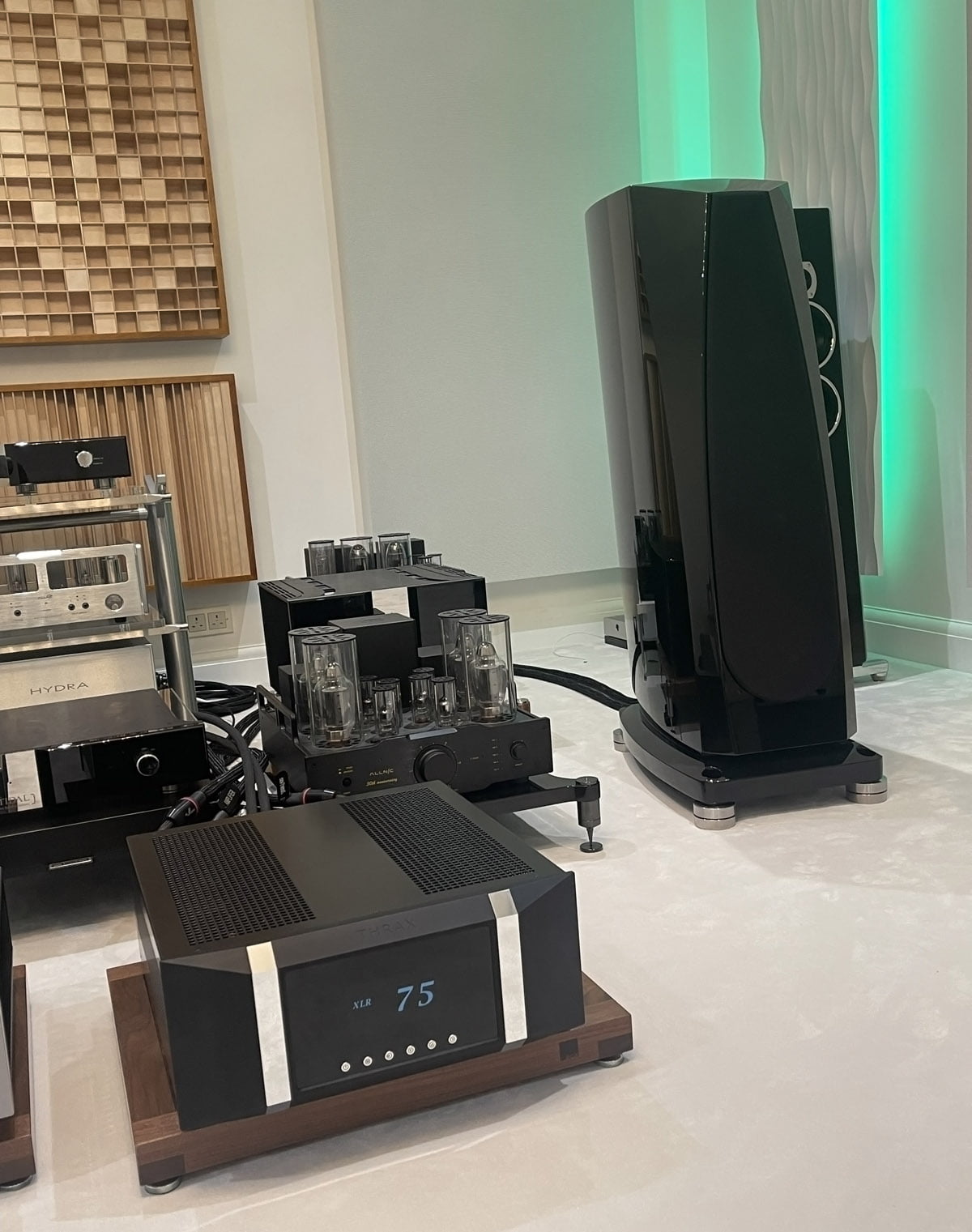 Amplifier comparisons with the big Rockports have all been interesting. The base Integrated amps from Vitus (the RI-101 mk2) and Thrax (the Enyo and Ares) all worked wonderfully. Now some people might baulk at the thought of an £11,000 one box amp with a £48k loudspeaker but this really is how to truly build a system, around the best possible floorstander that funds will allow. And the Integrateds mentioned are so high performing that they are in no way found out. We recommend moving up to a top level DAC or Turntable and maxing out cables/mains before spending lots of Pre/Powers.
Whilst the outstanding RI-101 mk2 gave a superior feeling of precision and control and was measured and refined in it's pacing and treble energy, the valve based Enyo let the music loose, with a slightly more enthusiastic and flamboyant delivery, pressurising goodness into the room with an unbridled sense of joy and openness. More on that comparison very soon in my Thrax blogs.
The story was a little different on the two Vitus Class A integrateds. Whilst the SIA-025 did an admiral job overall, I felt that for my tastes I would want a little more articulation and bite, especially in the upper frequencies. The SIA-025 is a stunning performer with Avalon and Vimberg speakers and it works stupendously with the Atria as well but the Avior perhaps needs a little more grunt and punch. The SIA-030 certainly added more grunt over the 025 giving a very enveloping , wide and deep experience, a majestic and very rich presentation with superb body and density of note. Whether that combination is a little too dense and rich for you will be a matter of personal taste. There was a definite heaviness about the sound which some will simply adore and others will want to thin out a little. There was no denying the 030's stability in the bottom end though or how much presence vocals and single instruments had.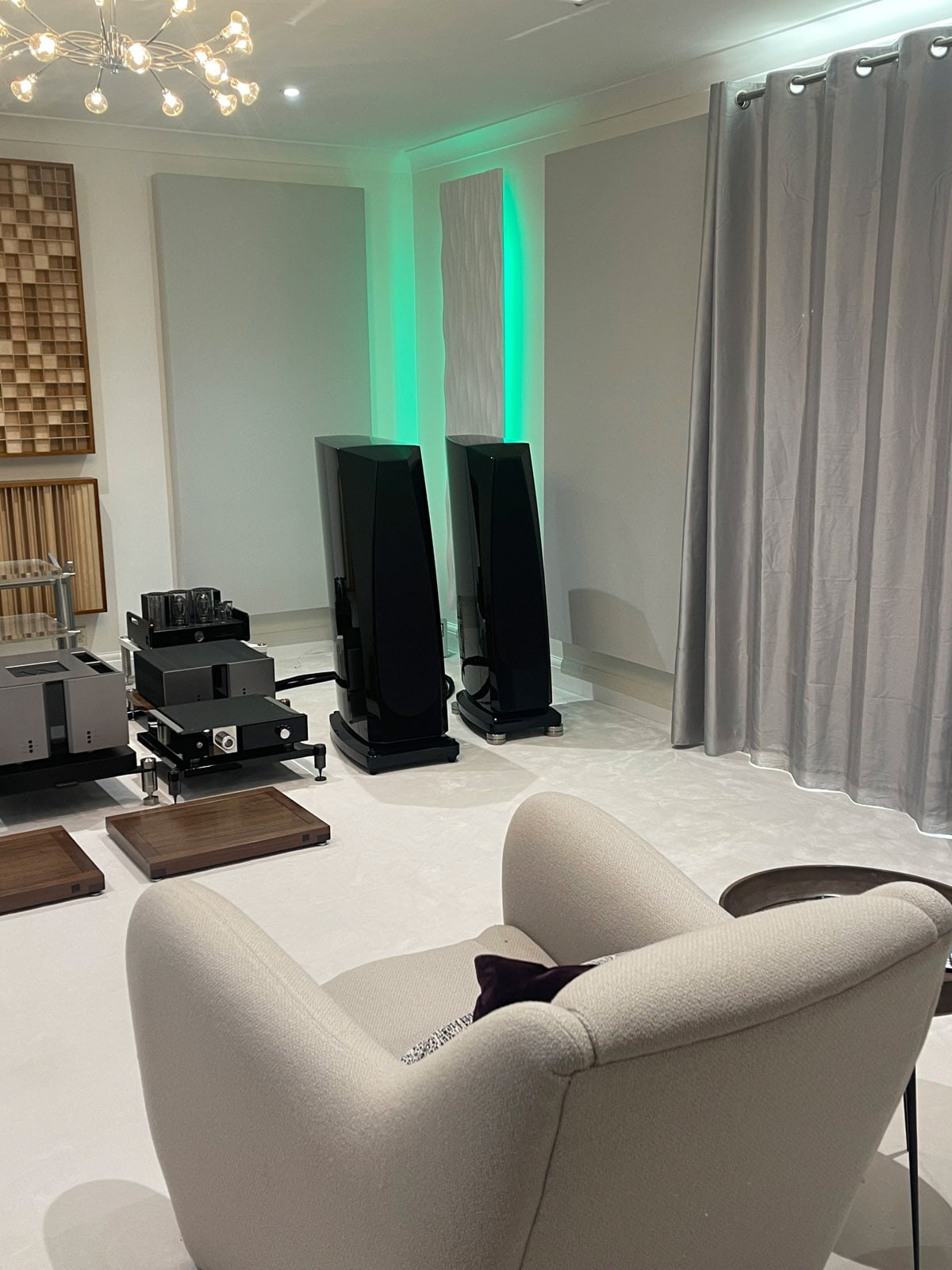 Whilst it could be counterbalanced with a highly neutral or even lean DAC or  more incisive biting cables, my feeling overall is the Tonda should definitely be investigated too if one is wanting a larger speaker with a 030. On the other hand and as a footnote, if one can forgo some scale and weight then the 030 with the Tidal Piano diamond is just about the best combination I have ever heard with that amplifier. So good is that particular pairing that it almost deserves an entire blog of its own. Watch this space.
Moving on, at around the same money as the 030, the Thrax Dionysos preamp and Teres stereo power amplifier probably conjured up about the best Avior synergy that I could create in my demo room. The Thrax's unapologetic sense of ultra transparency, its unhindered and liberated way of filling the room with music and it's refusal to soften or round any edges mated beautifully with the Rockport's more subtle way with the higher frequencies. Thrax pre/power with Aviors was definitely one of those Lotus wow demo room moments and it will surely grow to be a very popular system here in the very near future. The hybrid Teres had grip and propulsion to spare and its dimensional and hugely organic sensibilities were a veritable bullseye in the context of the Rockport voicing and sonic strengths.
A Tidal system will usually work supremely well with any top level loudspeaker that majors in naturalness and the Avior were no exception. At one point I ran the flagship Tidal Arkas/Camira/Primsma streamer/dac/pre combination into the Intra stereo and then Ferios mono amps and the results were simply stunning. Would you opt for the Avior over a Tidal Contriva ? No, highly unlikely but then the Contriva is the cost of an Avior and Atria combined and in addition comes out of the same factory so nothing is going to compete with its natural synergy to its own brand. Would you potentially have an Avior over a Tidal Piano ? Yes, absolutely. Whilst the Piano in an all Tidal system will still offer a Tidal purity that the Rockport cannot quite offer, its ultimately a specialised loudspeaker for a certain listener and most people spending in excess of £40,000 will simply want more scale, weight and bass performance and for those customers who can't stretch to the Contriva, the Avior is the perfect solution.