STILLPOINTS, "will mechanically lower your noise floor"
Stillpoints are a multi award winning monolith in this industry of ours. A reference point, a global standard, a go-to necessity for any good system. By combating the mechanical energy and vibration inherent in our equipment, you lower the noise floor and radically improve the sound. Across the world simply thousands of systems have been stillpointed with tremendous reults. In much the same way, they were very early on deemed an absolute necessity in the Lotus portfolio.
'Spring 2012 brought a comprehensively strengthened range of products by Paul Wakeen and his Stillpoints team. The release of the Ultra SS feet met overwhelming praise and approval from audiophiles and press alike, prompting a reassessment of the Stillpoints pecking order.
Although the original 'volcano-shaped' Stillpoint was already a memory, the surprise was by how far the Ultra SS outperformed the outgoing Ultra Aluminium and the more expensive Component Stand. Aware that Stillpoints has built its reputation on being the best solution for equipment support and isolation, Paul removed these unnecessary items from the range, and developed the Ultra Mini and the Ultra 5 – both using entirely Stainless Steel bodies, but with differing amounts of Stillpoints technology to meet different applications and budgets.
Ultra SS and Ultra 5 can be used underneath equipment (on a shelf or the floor) or underneath any loudspeakers, where they are ideally used with threaded adaptors as spike replacements. The Ultra 5 has 5 times the Stillpoints technology in a single package. Mor recently the Ultra 6 was launched and customers have reported them to be a major leap upwards from the Ultra 5.

The ultimate expression of the Stillpoints art is the ESS rack. Contained with this aesthetic beauty is engineering which sonically improves any system used with it, aided by six pockets of Stillpoints technology built into the support bars of each shelf.
The secret to Stillpoints design is in many fine details, but a key distinction is the way the four-tier filter prevents a direct energy path through the device. This isolation is in contrast with other support devices (such as spikes, cones and balls ), and the success of this approach is instantly audible.'
When properly set up, sets of four outperform sets of three. In the case of electronics, optimal performance is usually achieved when the stillpoints are placed under the heaviest parts of the equipment. Stillpoints will give great results under Amplfiers, Turntables, CD players, DACs, Streamers, Phonostages, Power supplies and mains-related electronics but perhaps the greatest improvement they will bring about is when placed under speakers.
ULTRA SS
The Ultra SS is a four tier filter, whereas the original Stillpoints was a two tier filter. The Ultra uses Stainless Steel to transfer energy faster than aluminum and it is more stable. It's ideal anywhere in the system but most effective under loudspeakers with the appropriate adapters. Please note the Hard Hat should be loosened upon installation and the isolated component levelled. When attaching to loudspeakers, do not affix the surface of the Ultra tightly to the surface of the speaker. Leave an air space the thickness of a business card or more between the two surfaces.
Set of 3, £699
Set of 4, £920
(Silver or Black)
Ultra SS spike, £20 each
ULTRA 2 – NEW
All new Stillpoint model
Exposed Technology pocket
Includes Ultra Base
£440 each, including Ultra Base
£370 each, without Ultra Base
(Silver or Black)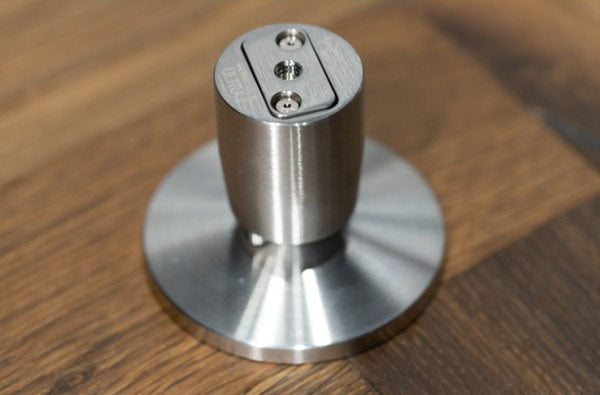 ULTRA 5
The Ultra 5 is a larger version of the Ultra. The Ultra 5 employs five pockets of Stillpoint technology. Whereas using four Ultras under a loudspeaker enjoys 4 pockets of Stillpoint technolgy, four Ultra 5 provide 20 pockets of isolation under each loudspeaker. We don't have to tell you that the Ultra 5 is quite an experience !
£679 each
(Silver or Black)
Ultra 5 spike, £20 each
ULTRA 6
Simply the best stillpoint yet for electronics and a significant leap from the Ultra 5. Available with or wirhout bases.
£849 each (£899 with base)
(Silver or Black)
ULTRA BASE
Adds extra isolation performance, and improves stability on carpeted floor. Enables height adjustment of Ultra 5.
£60 each (Black £75)
LPI
Vinyl sources benefit greatly from care taken in isolation. Stillpoints Ultras underneath the deck are an obvious starting point, but we can also deal with vibration at the disc itself. The LP Isolator ( LPI ) slips over the spindle of your turntable and rests on the label portion of your lp. It absorbs the micro vibration that is present at the label area and makes the LP reproduction clearer, cleaner, more delicate, more open and life like.
£569 each (black only)
COMPONENT STAND
New Stillpoints component stand. The ideal amplifier platform. Add on any variety of Stillpoint couplers.
£2000 – three legs (9″)
£2299 – three legs (11″)
£2399 – four legs (9″)
£2799 – four legs (11″)
APERTURES
Stillpoints highly effective sound absorption/diffusion panel (22″ x 22″)
"The effect of the Apertures in my room was dramatic: almost a sonic black hole. Despite the fact that my room had already been well treated with Synergistic's HFT and FEQ devices, the Stillpoints made the boundary seem to disappear, greatly enhancing center-image stability, solidity, and focus – areas where I'd thought no improvements were possible." MICHAEL FREMER, Stereophile
Walnut/Cherry/Oak frames + black or cream screens: £849
With custom screen printed artwork: £POA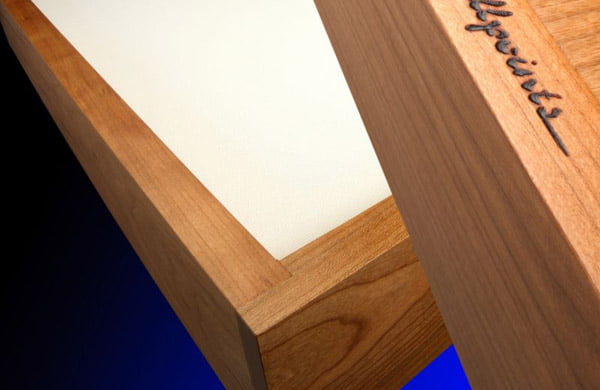 ESS
The highest performing rack we know of. Elevates the sound globally to a startling level even in standard form. Screw in addional stillpoints on each shelf and performance improves again.
Available in standard 20″ width, super wide 26″or double 40″ 'two stack' configuration. The total rack height can be 28″ for 3 shelves, 24″ for 4 or 5  shelves or 42″ for 4 to 6 shelves. (Obviously twice the  amount of shelves for the 40″ double width configuration). That said, almost any number of shelves can be additionally added if you have very slimline equipment.
Shelves are all fully adjustable vertically and can be either Acrylic or stainless Grids in any mixture. The Grid shelves can upgraded later by affixing your Stillpoints SS, Ultra 2, 5 or 6 in place of the standard 'hard hat' couplers giving increased performance for each box of equipment.
STANDARD 28″ HEIGHT
Standard width 28-20-3, £7,750
Wide 28-26-3, £8,250
Double width 28-40-3, £10,050
MEIDUM HEIGH 34″
Standard width 34-20-4, £9,200
Wide 34-26-4, £9,800
Double width34-40-4, £12,400
EXTRA HIGH 42″
Standard width 42-20-4, £9,500
Standard width 42-20-5, £10,900
Wide 42-26-4, £9,900
Wide 42-26-5, £11,400
Double width42-40-4, £12,700
Double width 42-40-5, £14,900