WELCOME TO THE MUSEUM
For a long time now, pictures of complete systems in customers homes have proven extremely popular on both my Instagram and Facebook pages. People seem to really enjoy witnessing real world setups in situ with all their idiosyncracies. The space and homes they occupy is perhaps just as interesting as the journeys people have taken. So here in the Museum I present to you a small selection of Lotus systems that we have developed and look after, in real customers abodes. It's obviously not an exhaustive list and sorry if you were not included but I have tried to avoid too much repetition and chose setups that might be of particular significance and visual interest.
What the museum does show very clearly is that a Lotus system really has a small number of variations. We covet only a limited range of equipment here but crucially, because everything we choose to sell and recommend to you over delivers on our very high sonic criteria, everything mates with everything and you really can mix and match the entire catalogue. I hope you enjoy the Museum.
TIDAL AND VITUS IN BALANCE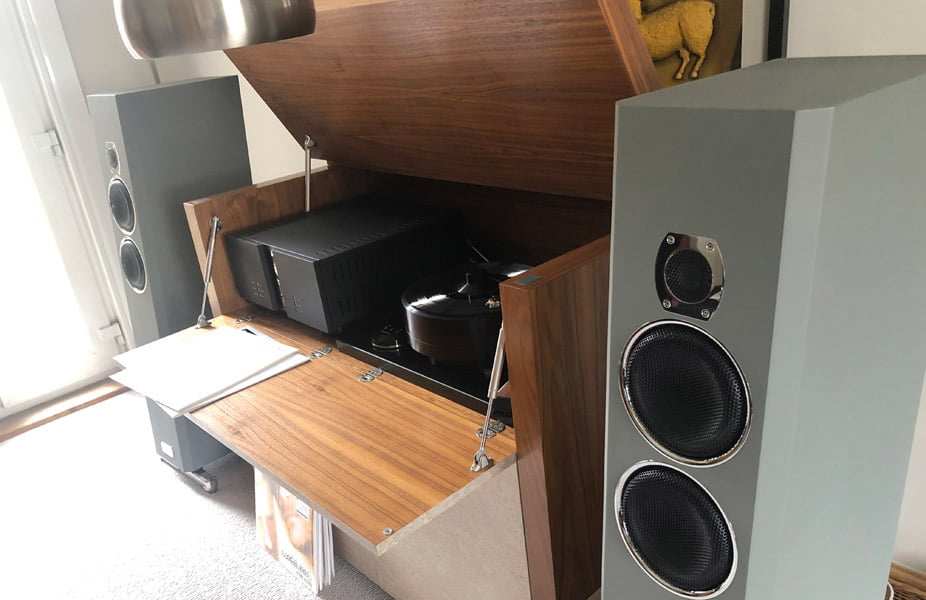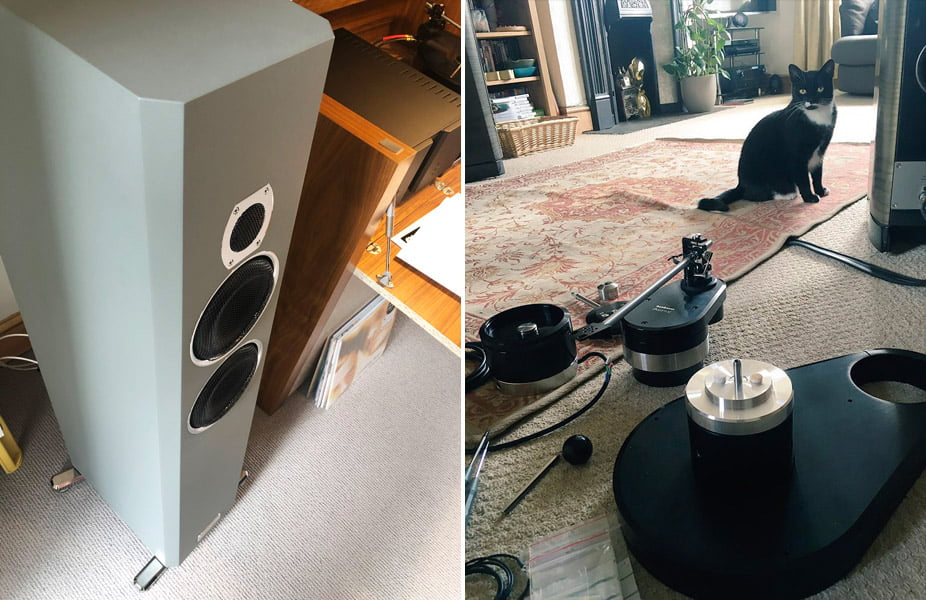 This is a system we have worked on for about 4 years now. JC was a low level Naim user when he first came to see me in 2015 and we got him into a Vitus RI-100 Integrated which he still has to this day. Every year he has steadily improved the  system with a gorgeous Brinkmann Balance + 12.1 Tonearm a year ago (upgrading from a Notts Analogue) and more recently a stunning set of grey Velvetec Tidal Piano G2 floorstanders which suit the room beautifully.
JC took many months over his speaker purchase. He listened to a number of models with me and home demo'd both the Pianos and the Avalon PM1. He also home and shop demo'd a number of other speakers in the £15-£30k bracket including Magico, Vivid, Bowers and Wilkins and Boenike. If you like what the Piano does though, ultimate openess and neutrality but without ever sounding unatural or skeletal, then nothing else will do. For this customers room, they simply never need upgrading. You could put the best electronics in the world in front of them and they would still accurately telegraph everything that was going on.
JC's sound is wide, spacious and enveloping. There is warmth from the RI-100 but also tremendous focus and clarity from the Piano. The Balance is so surefooted and grandiose with the most incredible heft and dexterity in the bass. The longer 12.1 tonearm makes for a front end that is even more unflappable and confident than normal. This is a very attractive system too. The cabinet is bespoke made and we love the lighting and overall colour pallette. Like nearly all Lotus systems it doesn't need upgrading and doesn't have any weak points as such but at some point, we might see the addition of an Allnic phonostage and the RI upgraded to 101 specification.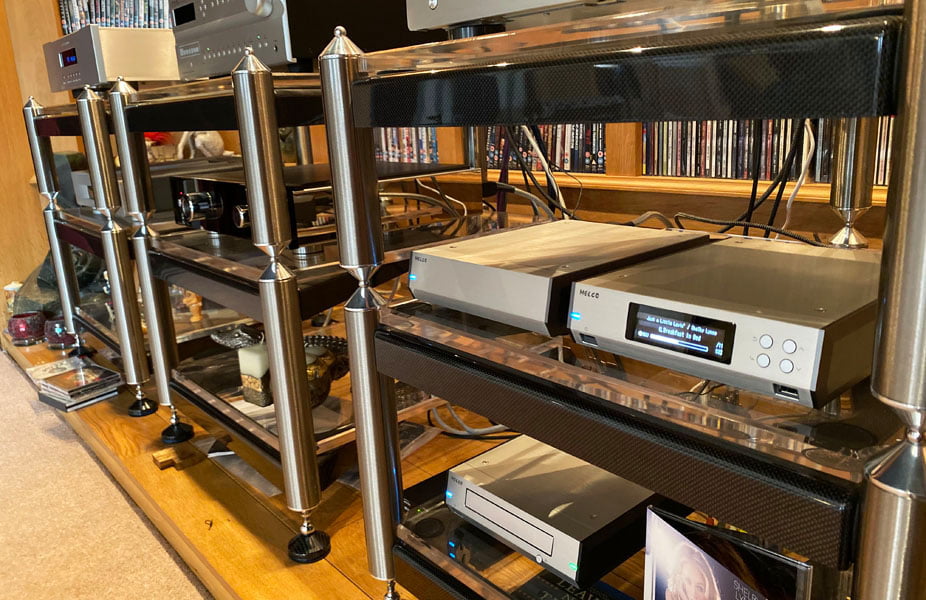 Graham is relatively new to Lotus and has an outstanding room. It's a complete pleasure to develop a setup that lives in a space such as this. He initially came to me in order to get into a world class set of Loudspeakers and we successfully investigated Tidal Contriva and Vimbergs together.
Then after hearing Tidal electronics in his demos,  in an about turn, we decided to attack the front end instead and drop a Tidal Preos (preamp, dac, phonostage) into the system. Graham was staggered at the improvement. With £60,000 of flagship CD player and Preamp he thought he was at the very end of the road at the business end of the systm but the Preos, part of Tidal's 'budget' range, usurped both of these units at less than half their cost. He also went from three boxes to just one. We added a Melco too, fed into the Preos with Tidal digital cables through a Mutec USB/Spdif converter.
To be fair to the big ATC speakers, the Preos proved there was quite a bit more to come from them and now, with so much more refinement and naturalness in the system they actually don't sound like an ATC but a totally different speaker instead and Graham is going to enjoy this new sound for some time I imagine. Ultimately though, the next development step will loom at some point in the future and for this move Graham will surely return to his original enquiry and upgrade to a set of of Vimberg Tonda or Contriva floorstanders in conjunction with Tidal power amps. This of course will be sonic leap many times greater than this first one and it has to be said that a full Tidal setup in this generous room will be quite something.
Godfrey i've known for years, we used to be neighbours ! He was a 10+ year naim 500 series owner with KDS and PMC Fact 12, formerly Quad Electrostatics. It took me some time but he finally woke up to what I was doing here at Lotus and he left his old system behind and began a new life in no uncertain terms with Vitus, Tidal, Stillpoints, Melco and Vimberg.
Godfrey is an example of how to properly execute a system change into the Highend. He has done everything correctly from rack to support to wires to mains and of course the actual boxes. He wanted a 'retirement' system where the performance of everything was properly maximised so he could then just focus on buying music for the next 10-20 years. The Tidal xlr/usb/cables, the Stillpoints rack and feet under everything, the Melco streamer, the Entreq Powerus, all of these things are 50% of the system performance. When a rig is this natural sounding, this open and resolving, you can literally lift the speaker cables off the ground with your hand and hear the difference. Good ancilliaries catapult the performance from the exceptional to the truly magical.
Some people have an emotional block with spending money on these things and some people simply don't have the budget. That's fine but my job is to just make sure you understand that good audio is fundamentally about removing noise and noise exists JUST AS MUCH along a wire or in a mains cable as it does say inside an amplifer. When you upgrade from the £5000 to the £10,000 preamp (something people don't have an emotional block about) all you've done is purchased one where the manufacturer has removed more of the noise inside the box compared to the cheaper version, so don't feel too guilty about doing the same for an accessory. Your old Blighty system from New Malden high street might have been sold with bell wire and a £250 Sound Org rack made from a few slabs of cheap mdf but this type of equipment is operating in a totally different universe. When you stop to fill your V12 Ferrai up, you put 100 Ron Shell V power in it, not 'garden strimmer' 2 stroke !
The sound in this room is of course very much influenced by the incredible Vimberg Mino. The Vimbergs have a habit of completely disappearing and just sounding so inviting and pleasurable. If you literally put an iphone in front of them playing a few mp3's you'd probably still just gawp and slump yourself in the sofa for the whole day. The sound here is unmistakably Vitus with reserves of richness, refinement and high on expression and intimacy, but the newly launched star of the show, the SIA-030 brings new levels of purity, control and micro expression not seen perhaps in any integrated ever before. Voices are palpably in the room, solo instruments are incompehensibly exquisite, complex music hangs together so effortlessly and rhythmically. This is a dream system and I am proud to say that it utterly exemplifies that mysterious word we all use "musicality". You won't leave that chair !
Rolf like many people was also formerly a Naim 500 series user, feeling like he was at the end of a journey and looking round for a new arena to discover. He met me a number of years back and we got him into a Vitus Integrated which he used successfully for a few years with his original Linn Sondek. In the last round of upgrades though he went to full Tidal pre and power, Brinkmann Spyder deck  and also acquired a used set of the first generation Tidal Piano speakers.
Rolf just uses a bluesound for his streaming which pipes straight into the Preos DAC. Vinyl is his real love though and Brinkman's entry belt drive deck produces a very even handed neutral sound full of delicacy and naturalness. This mates with the Tidal philosophy extremely well. The system currently uses a mixture of wires including Entreq but hopefully one day he will go to the full suite of Tidal cables and power cords which adds an awful lot at this level, just as much if not more than actual boxes. Whilst the other wires we sell do work really well with a Tidal system, we do encourage people to aim for Tidals own cables because that is where the full setup will come into it's own.
It seems like the Dac inside you Preos you get for free. This is simply because if you treat the Preos as a preamp only and put it up against other Linestages costing the same and also more than it's £30,000 asking price it probably won't be the one to part company with a bloodied nose. So it's tremendous value as just a world class linestage before you even get to sample it's inbuilt phonostage or Dac. By careful dealer experimentation we know that the performance level of the dac in isolation is around the £11,000 Vitus RD-101 level and Dac's like the SCD, Masterpiece and Camira have significantly more in terms of dynamics, resolution, space etc. But this is to miss the point that you only ever hear the Preos Dac through the exceptional Preos linestage so every Preos customer I have never ever feels like they need a better Dac. It will comprehensively trounce a much more expensive Dac fed into a linestage that is anything less than Tidal Preos. It also has this wonderful flow and effortlesness to it. It is supremely analogue and refined, just a wonderful front end. Unlike the Camira though it is quite sensitive to what it's fed and use of the incoming Tidal SPDIF is fairly critical.
Kevin was another user of Naims flagship equipment. He came to me 4 years ago or so wanting to  move things forward. He is a listener who likes dynamics, detail and a big sound so we looked at Tidal together and furnished him with a Tidal Preos with Impulse Mono Power amps and an Aurender W20 streamer.
Kevin is a customer who is wedded to some of his pre-existing components like his beautiful green Kef Blades and full specification Linn Sondek SE. He is a good example of how we can adapt to fit to your own particular set of personal predilections. The LP12 feeds into the high performing inbuilt phonostage inside the Preos and the whole system sits on two Pro Audo Bono suspended racks.
On a sadder note, we should pay our respects at this juncture to the late Derek Jenkins who we used to employ to look after this particular Sondek. Derek was the worlds definitive LP12 guru, the very finest at setting up the fabled Linn deck that we know of. A personal friend, musician, a true individual always replete with character, stories, anecdotes and general goodwill. He sadly passed away in the Spring of 2019 and was way way too young to go. In an ironic yet befitting tribute, Kevin houses his Entreq grounding boxes and mains block on a small 2 tier Sound Organisation rack, the very store where Derek work at for many years and honed his Linn skills. RIP.
TRANSCENDING THE ELECTRONIC
One of my favourite systems that we have built and another one that has been done methodical and right. Alan has upgraded this setup steadily since early 2014, never skimping or ignoring any single one part of the chain. After being alerted to Lotus by an Allnic H1201 phonostage (did I tell you that that happnes quite often ?), he then went on to look at wires and then stillpoints. All of these purchases added considerably to his then Linn LP12/Linn Akurate/Akurate 212 system.
The rest as they say is history. Vitus RI-100 with DAC, Melco streamer, Brinkmann Bardo replacing his max'd out LP12 SE, Avalon Transcendant, Allnic H1201 to the mighty Allnic H3000, Vitus RI100 to 101 upgrade and then more recently TQ silver diamond speaker cables and a Lyra Etna SL moving coil.
This is a truly wonderful sounding system. Enveloping, holographic with generous tonal saturation. All of these components from the Allnic phono to the Avalons are famed for their supreme sense of the music being completely unforced. The sound has a well judged degree of warmth and richness and yet the Etna and direct drive Brinkmann imparts the system a precision, incisiveness and feeling of definition that perfectly suits Alan's love for propulsive rock and pop.
We particularly like the use of Stillpoint Ultra 6 under the Bardo. Alan had some special custom adapters machined to make for a direct replacement for the OEM Brinkmann feet. That an a lone stillpoint underneath the Bardo power supply make for a powerful performance upgrade. At the moment Alan is taking his time testing a whole range of mains cables to find the perfect combination from Shunyata, TQ and Entreq. This rig is a complete pleasure to work with and an example of how a system built correctly and in the right order will never give unexpected results.
VITUS SIGNATURE WITH CONTRIVA
Brian, yet another former Naim 500 series customer came calling around 3 years ago now in search of a big upgrade. The answer ? Well, probably my most commonly placed system to date, Vitus Signature level SCD-025 CD/Dac with SIA-025 Integrated. Two small boxes, one interconnect, provision to easily add streaming and a sound that is such high level that one never need upgrade ever again. The Signature gear also has the advantage of a beautiful build with fat aluminium cheeks on the casework as well as the fascias and a weight and heft which oozes premium.
Brian opted for custom Titanium finish and I personally think it's the best looking Vitus colour option you can get. Vitus doesn't work with Naim Fraim but in this case Brian was keen to retain it as he has a lot of AV equipment that is quite happy there. This is easy though, just get rid of the glass (never ever put highend hifi on glass) and stillpoint the Vitus straight to the wooden part of the Fraim. Once stillpointed the rack is almost having zero effect on the sound and this is why we often have systems situated directly onto real furniture and people's favourite sideboards etc. A good rack AND stillpoints is better again but stillpoints underneath equipment is preferable to a posh rack.
Brian's story doesn't end there though because a while later he came back to us for some Entreq grounding. As you've already noticed, he also wanted to buy himself a 'last' set of loudspeakers so we happlily took his ageing Sonus faber Amatis off him and delivered a beautiful pair of Mahogany Tidal Contrivas. The Contriva are one of my personal favourite products, simply everything you could ever wish for in a loudspeaker. Yes the Sunray and Akira will outperform them at astronomical cost but for regular mortals the Contriva is everything you could ever dream of. Enough neutrality, resolving power and naturalness for the the best equipment in the world.
"The music arises from complete blackness with 3D imaging, sounding completely natural and unconstrained at all frequencies. I use it every day with sources as diverse as Radio 3 live concerts to CDs burned from Revox recordings made in 1978."
John has been a good customer for many many years now. I think I'm right in saying that he first contacted me about a used ARC Ref Phonostage but ended up with An Allnic H3000 and this is the piece that built his trust for me. This is a common story though, Allnic is one of the industries little secrets and when people hear or buy it, it pulls them into the fold fairly rapidly.
John has had a few systems with me and he's both a vinyl and digital guy but this basically is where he's ended up. Dohmann Helix 2 with Schroeder CB tonearm and Transfiguration Proteus, Melco ZS into a Tidal Preos/Impulse and a set of Pianos. I have placed a really good number of Dohmann decks since we started doing them in 2017 but I think John might have been the very first. Originally he had an LP12 I think and graduated to Well Tempered then SME.
I particularly like John's room and I'm definitely a softie for a German Vizsla. Again we see the regular piece of furniture here and everything stillpointed or isolated properly. The Helix 2 does not need any special rack or isolation because the whole deck lives on top of an inbuilt Minus K negative stiffness unit. In the last shot you can see John's old system, again Naim 500 amplification with Linn Sondek and Wilson Duette stand mounts.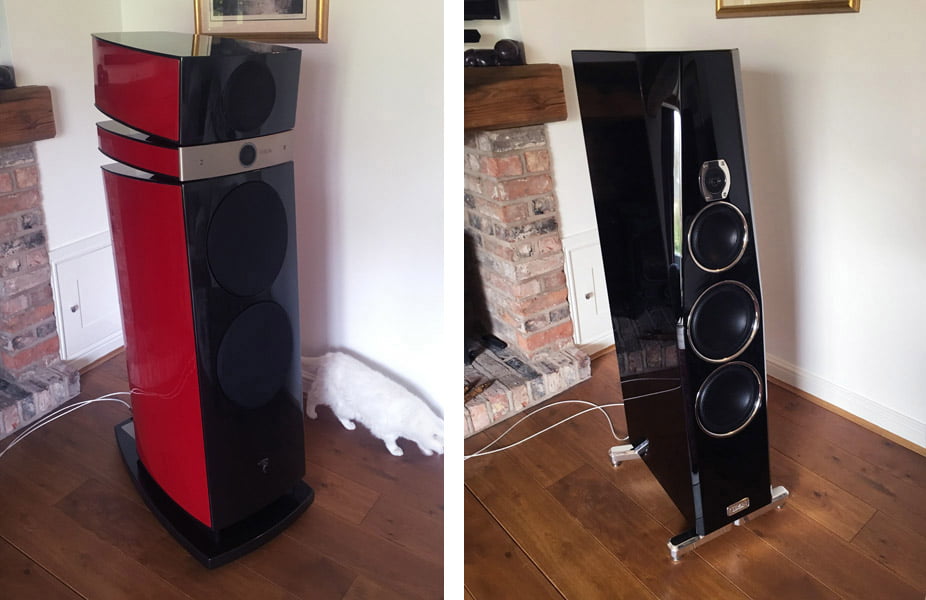 Dave was actually our very first Tidal customer. He's a hobbyist who has been around for some time and been through a fairly extensive list of exotic brands over the years. With Tidal though, his box swapping has stopped for good and last time we spoke, to indulge his hobbyist side, he was building an Isobarik six pack system for his spare room upstairs because there's not much fiddling you can do to his main system anymore.
Preos, Impulse Monos, Contriva all set on beautiful Monaco GP carbon fibre racking. The day the Contrivas arrived they made the enormous outgoing speakers sounds like a set of small bookshelfs. One word … bandwidth !
Dave used to run a beautiful brass Momentus turntable which usurped a Kodo "The Beat" deck which we sold him in 2014 but now the digital he gets from the Preos Dac is so good that he's given Vinyl up for the time being. Despite the very lofty performance of this system it is still only entry level Tidal. We anticipate that Dave will go for the forthcoming Prisma balanced linestage and Camira DAC in due course when the Prisma is released turn of the year. That will be a big double uplift and we look forward to hearing the system again then.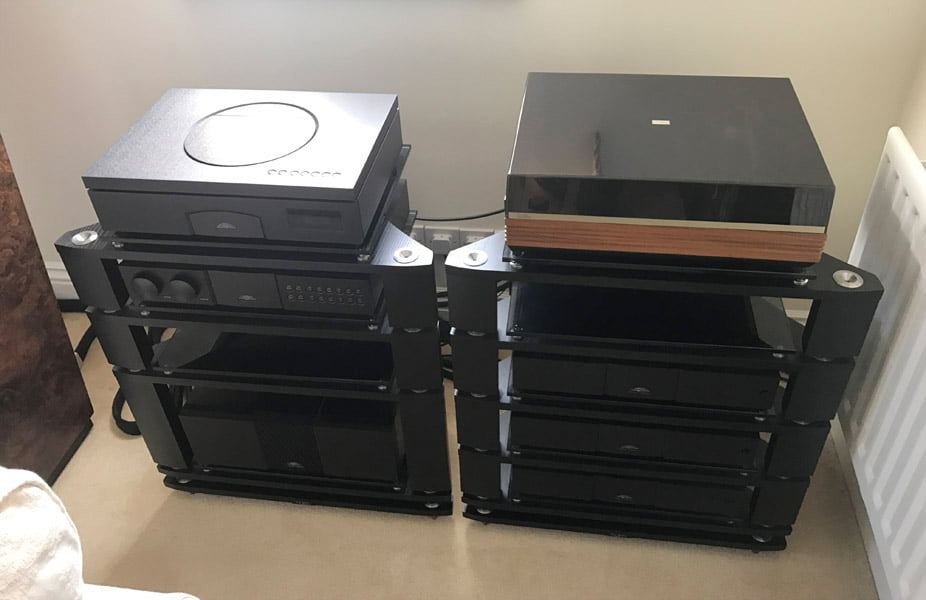 We've seen a few systems with entry Tidal, one using the Impulse monblocks. Now take a look at this senior league Tidal setup. Mark again was originally a Naim 500 owner with naim SBL would you believe. He came to me many years back requesting a really high performing speaker and after looking at various things the Avalon Compas with Diamond tweeter were the right fit for his taste and his room.
A few years later it was time for the electronics and Mark did not pull any punches and after sampling it at the Munich highend show and in his own home, he pulled the trigger on Tidal's flagship DAC and Linestage, the Camira and two box Precensio, and the then newly released Ferios mono amps. Streaming comes from the flagship Melco ZS and all wires, cabling and power cords are Tidal. We had Pro Audio Bono in Poland also make a custom double width rack with suspended anti vibration shelves although all the Electronics are also stillpointed with Ultra 5 and 6.
When you hear Preos/Impulse with all Tidal wires into a really good set of speakers it's difficult to imagine just what flagship Tidal adds on top but here it is in all it's glory and it's a big leap indeed. This system has a level of composure, calmness and outright stability that is actually quite disturbing on first encounter. No one is used to hearing audio replay this grounded and coherent. It's almost as if the system is stabilised by the weight and size of mother earth itself. Every single track you thought you knew sounds many degress more simple, more unruffled and more musically orderly than you've ever experienced before. This is perhaps what startles you on first listen but then pretty soon you are knocked flat but the exquisite levels of micro expression, the fine detail and uncanny realism. The feeling of purity and clarity is breathtaking. This is a rare treat, a very very special way to listen to your favourite music, not once ounce of 'system' or 'electronics', just pure invisibility and the masterings and recordings exactly as they are.
Jim is actually a new 2019 customer. He came to me wanting to build pretty much a final system to replace his ageing Audionote / Wavac / Modwright setup. His older system made a decent enough sound but it was a little soft, devoid of imaging and he was after something with far greater clarity and simply more believable. We played him Vitus amplfication and a host of speakers and he and his wife really fell for the smooth organic Vitus SIA-025 in combination with the ultra pure and revealing Tidal Piano. The extreme resolution and clarity of Piano counterbalance the buttery Class A presentation of the SIA and it's a brilliant combination.
Jim has so far elected to retain his Reimyo DAC. It's a good unit with a nice organic sound and sits in the system well. Their living space is dominated by neutrals but there is a smattering of orange throughout the downstairs so the Sosoma Orange hue of the Tidals was a natural if bold choice. My view is people should be a little more daring with colours and designs. This system looks absolutely fabulous in the flesh. The bright colour really is a thing of joy and lifts the mood.
A difficult room to photograph but we love the overall look. Mark is a stickler for the detail and likes things to be just so and we think it pays off with a very attractive setup. And then of course there's the sound. Melco streaming into Tidal Camira Dac, Tidal Impulse power amp driving Wilson Benesch. Interestingly here though, Mark has opted for an Allnic L8000 linestage which gives the whole system a superb look.
Allnic is actually the very first brand I become heavily involved with at Lotus and I still have as much love for it today as I did back then. I believe that Kang Su Park is one of the greatest designers out there and whilst there is so much valve equipment out there that sounds good, pretty much every single Allnic piece that I have tried sounds not just great but really very special. The L8000, although not Allnic's top Linestage is a great case in point. We would happily put it up against almost any preamp out there being made right now and certainly it's up there with what we sell from Vitus and Tidal. The thing is it's not £30,000+ but actually under £20k. With the ingenious brand from Korea you do get much value.
Of course the Preos would work exceptionally well in this system or the Vitus SL-103 linestage as well but Mark likes the sound of the Allnic. To the precision, purity and accuracy of those solid state units, the Allnic offers up a slightly less taught presentation, some extra pressurisation on notes and a tantalising degree of indulgence on the timbral and harmonic renditions of notes. You could only ever describe the Allnic as eminently neutral of course, just a Direct Heated Triode kang Su Park version of neutrality that some find irresistable and preferable to solid state.
Mr F was the lucky recipient of the first sever set of Vimberg into the UK, Mino Diamonds to be precise. This was part of an entire system build including Tidal Preos/Impulse pre/power, Melco ZS feeding the Preos Dac and then a gorgeous Brinkmann Oasis direct drive turntable which was carried over from his previous system.
The house here is in the middle of congested central London so it's a tardis like Victorian terrace but the rooms are still fairly limited in dimensions. Mr F. also has young children and wanted a system in his own man cave, his spare bedroom. We imagined that the small space might be quite challenging for the generously sized Vimbergs but on install day we just wired them up cold, sat back and all just smiled at what they did fresh out the box. No bass boom, no awkward room nodes, no dodgy reflections, the Vimberg just have a habit of never putting a foot wrong. To be honest I am not sure I fully understand how they do what they do but they just seem to sound incredible no matter where they are, how they are positioned or what you put through them.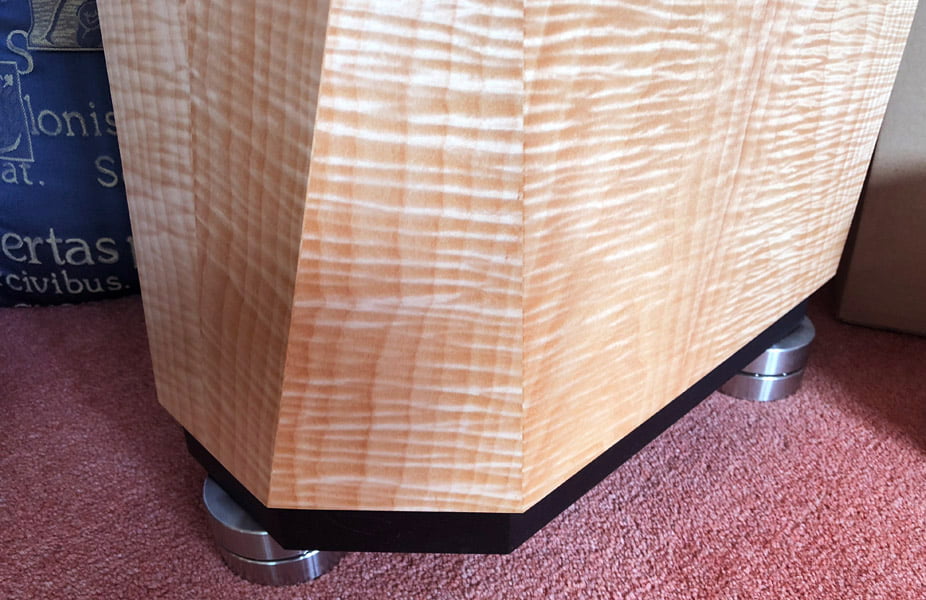 Graham is another longstanding customer who we have worked with steadily for a good number of years. Like many Graham likes to enjoy a good round of upgrades every year or so and enjoy the system at each stage. He also pays good attention to wires, support and mains cables and as ever this pays handsome dividends with a system that is extremely composed and natural with amazing resolution and emotional power.
Graham is very much a Vitus man. His first acquaintance with Lotus involved a demo of the £19,000 Class A SIA-025 Integrated amp which dethroned his then Naim 552/500DR. For a good while he ran his full spec LP12 SE and Linn Klimax DS Katalyst into this and his Audiovector speakers. It was the speakers we attacked next though and after listening to a few models he chose the Avalon Transcendant Mk2, favouring them for their unforced, calm character and beautiful tonal colour. Some time after this Graham decided to upgrade the Digital side of things and we introduced him to the Tidal Camira. With Tidal mains cable, USB and XLR and fed by a melco streamer he now owns one of the finest digital sources in the world.
What followed was a bit of head scratching because the Digital side of his system was now so far ahead of the Linn LP12SE that he was simply never using it. It was a tough decision working out whether to junk Vinyl altogether or make the large investment to run two sources that are at similar performance points and will thus get equal use. Graham has too many records and enjoys Vinyl a bit too much I think so in the end he decided to retain the spinning discs and so we fitted him out with a Dohmann helix 2 with Lyra Etna SL, our Allnic H7000 LCR valve phonostage all with Tidal interconnects and mains. We had to change the rack as well at this time and with space at a premium the Entreq Athena made the most sense. Now of course, the deck is probably better than the digital on may discs but they are both of such a high level that I know he enjoys both in equal amounts.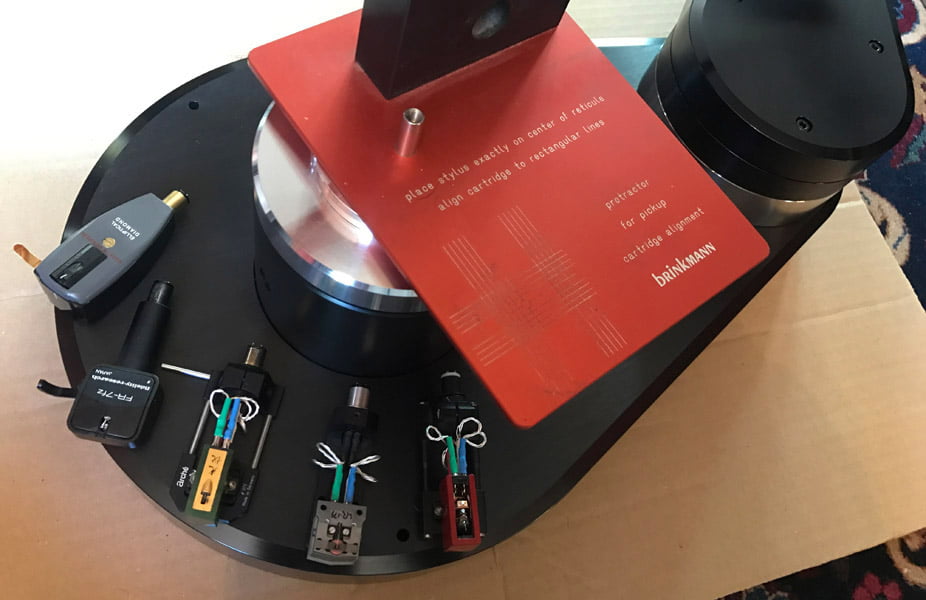 Howard just might be one of my oldest longstanding customers dating right back to the beginning of 2013. His system all the way back then was a interesting mix of Brinkmann La Grange deck, Art Audio phonostage, Canary pre and power and Quad 2905 Electrostatics.
His story was typical of many customers. Someone who enjoys his music literally every single day, very much dedicated into creating a good sound but a little lost having had less than ideal previous dealer experiences and not really knowing how to move things forward. Some people try to read magazines and websites of course but everything gets a good review these days even the truly mediocore kit and I've lost count of the number of people I have met over the years going round in round in circles taking pot luck on the secondhand market, being lured by giveaway used bargins and swayed by their friends or worse still internet forums who said "this and that" sounded good. You never assemble a really top flight system that way.
We took a look at Howard's setup and basically saw a competent turntable (that needed a tune up), a weak Phonostage that was holding things back, ok-ish amplification but that also needed a servicing, into a set of speakers which were severely limited in many dimensions (top end, bottom end, dynamics, resolution) but that did impart some nice qualities to the system like space, scale and rounding over harshness. We did also see an incredible double Edwardian room with tall ceilings and all completely dedicated to music. What a project !
Over the years we have enjoyed many big leaps together. The very first Lotus influence was an H3000 phonostage which really began Howard's admiration for the Allnic brand. Some time after that we attacked the preamp and the midrange Allnic L3000 made another large difference over the 4 box Canary. Then it was on to Amplifiers and the 50 watt 300B A5000 double parallel Triode monoblocks worked beautifully with his Quads. A few years later we trialled various speakers and he ended up with Avalon Compas diamond. A year later we Entreq grounded the entire system and swapped the La Grange for a new flagship Brinkmann Balance. We also sourced a vintage Fidelity Research  FR66 for him, the perfect high effective mass tonearm for his Koetsu Jade although Howard likes to enjoy a range of carts inlcuding his beloved SPU and Decca London.
This then is where we are now. Future upgardes could include the flagship dual chassis H8000 DHT phonostage or the L8000 or newly released L10000 OTL/OCL 300b Linestage but like all my systems they do not need upgrading. Doing so is still fun and gratifying of course but even my cheapest system of a Comet Dac into an Allnic Integrated and a set of ideas does not need 'fixing'.
Howard loves his church music, choirs and recitals, classical and a periodic smattering of the Moody Blues. He has the Avalons very near field and this is a big big room. The Balance is majestic and very composed and the Allnic chain gives a simply massive soundstage, hugely spacious with amazing 3d. The 300b mono amps have wonderful musicality and beautiful midrange lustre and gorgeous highs and we know that Howard has tried some really expensive £50,000+ Push Pull monos here but nothing can match the high powered Allnic 300b for out and out realism, tactility and tonality. They will be a very difficult component to ever upgrade.
The entire chain is Entreq grounded and feeds out through the Avalon Compas which we know are one of the best image makers in the business. Listening to Choral and live recorded Church music in this room is almost a haunting experience. The whole cavernous space becomes the venue and the sound at times is so deep that it actually appears to extend back out of the house into the garden. With the grounding and high quality VertexAQ wiring there is a lot of purity and linearity here and it's one hell of an immersive and emotional experience. This is a very special system and tailored very carefully to cater for the customer's musical tastes in a very bespoke way. A 7 year journey I have greatly enjoyed and with more to come in the future too. I always enjoy returning.
Iain is another steady upgrader. I think the little Allnic H1201 phono preamp was also his entry point into the Lotus way of doing things. He had a Naim ARO'd Linn Sondek SE into ARC ref LS26, Rowland model 1 and Martin Logan Clarity. We moved him into a set of Avalon Ideas and then later on a used Allnic H3000 phonstage which he now uses with his Rowland Continuum Integrated.
More recently he swapped the Linn out for a Brinkmann Bardo with 10.5 tonearm, retaining his Lyra Kleos. With the same phonostage and catridge this was an interesting install because within 40 mins or so we were able to play the Linn and then the cheaper Bardo obviously through the same system using the same records. Now we have moved plenty of LP12SE owners into Bardos over the years but doing the comparison this immediately really did surprise us all. Whilst all the improvements you would expect from the German direct drive deck were obvious like dynamics, drive, precision, three dimensionality etc. what was startling is just how veiled, coarse and rolled off the Linn sounded in comparison and the flatness and "one note" character of the musical structure.
The Bardo just sounded so much more balanced and nuanced, revealing subtle musical interrelationships between different bits of the music that were completely lost on the Sondek. The songs we played just sounded like they were underpinned by far greater artistry and creative ability. Instead of a cruder and more artifical wall of sound with a loudness button switched onto the entire range of sounds, we now had a delicate, expressive and deeply insightful rendition of the music  that existed in an unforced 3d hologram in the room and with huge variation in the position, volume and importance of different instruments. The transition was so significant that I wrote a dedicated article about it.
More recently, Iain finally made to the move to Vitus amplification, swapping the Rowland for an SIA-025 Class A integrated amplifier. This generous upgrade was also furnished with 0.8 interconnects from Tara Labs and a smattering of TQ mains cables.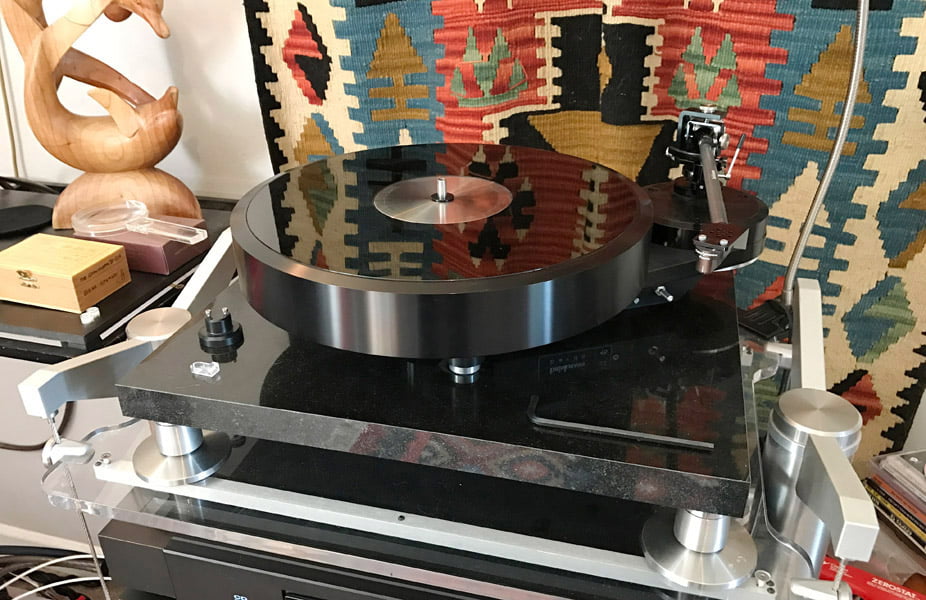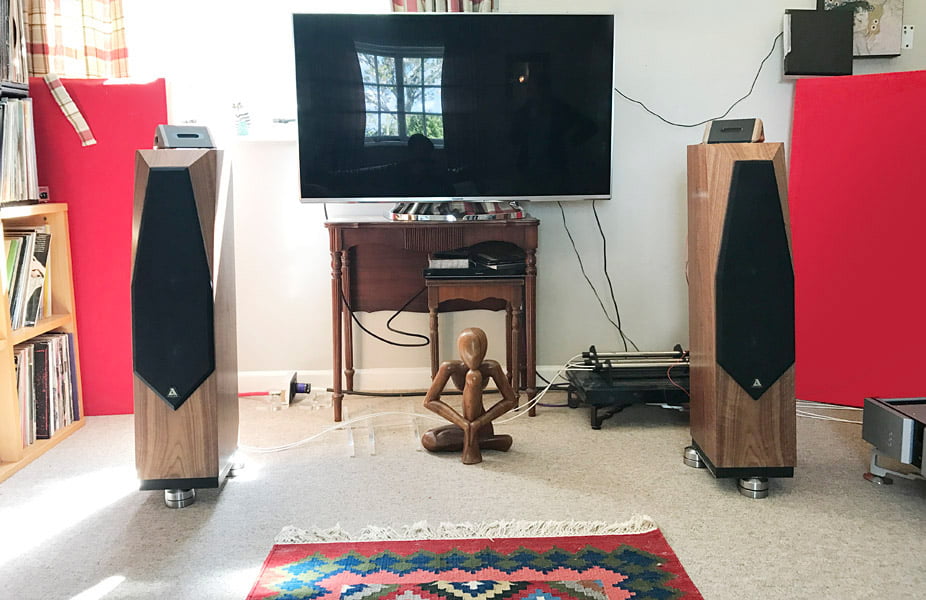 Laurie is a true hobbyist. He loves his music but likes to tweak and experiment and squeeze every last micron of performance from every single juncture. I have lost count of the number of stillpoints we have supplied him with over the years and I know he is now right down to the level of highend Synergistic Research fuses and upgraded power cords and USB cables on his mMelco D100 ripper (yes, it does make for better rips !).
He's had alot of kit over the years. We have part exchanged all sorts of gear with him from the likes of Living Voice, Audion, Kuzma, Kondo and David Berning. As it stands at the moment, he has Avalon Idea, Vitus SIA-025 integrated, Brinkmann Bardo and Brinkmann's own Nyquist DAC with Melco streamer/server and Tidal USB. The phono is the Audiovalve Sunlida but he has been making hints about moving to the Vitus RP-101 or Allnic H7000. This is a great system and we just love the double width Stillpoints ESS rack.
Michael is another previous Naim 500 user and one of my very first converts to Vitus. We moved him into Signature SCD-025 and SIA-025 Integrated many years ago now and he's been enjoying it hugely ever since. In the begining he had Kudos Super 20 but a few years ago some bigger Kudos replaced these and the sound is absolutely massive in conjunction with the Danish electronics. One day though, when budget allows, we hope to move him into a set of Avalon or Vimberg to really do this setup justice, and also a Melco streamer. Even the entry N1a melco will outperform a really highend end transport like the one included on the SCD-025.
Love the furniture here. As we've seen before, with all the boxes sitting on Stillpoints Ultra SS there is no negative effect from the wooden furniture and the sound will be significantly better than just placing on an expensive dedicated rack.
Nick is more recent Lotus customer. He actually has two systems and he came to me initially wanting to improve the digital in his smaller home. For that we supplied him with a little Exogal Comet DAC which I know is doing the business and he is enjoying to this day out in the countryside.
This year though, he came to listen to speakers to replace his YG and he was extremely taken with the Vimberg Mino. "They just sound so right" I think was his first impression which is always a good comment. He was so taken with them that he almost ordered blind but in the end we elected to perform a one day home demo which went exceptionally well and as we so often see, in the comfort of his own house and own familiar system, they were many many times more compelling again than they had been in the shop. Nick runs a really top spec Boulder DAC, a flagship Melco ZS streamer which we supplied into the illustrious Vitus SIA Class A Integrated.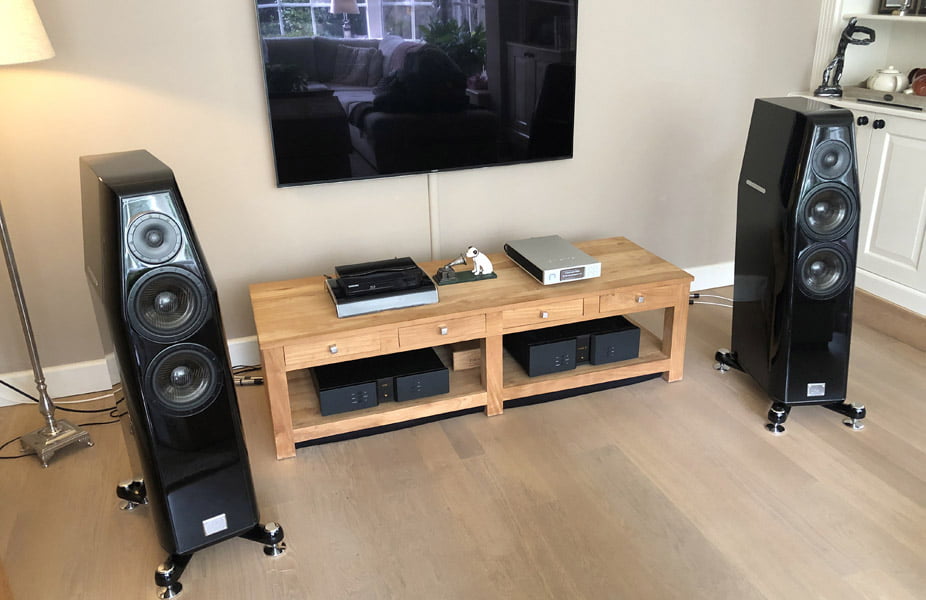 Sjaak was a reference Vitus customer back in 2015. We supplied him with RD-100 Pre/dac into RS-100 power amp and Aurender streamer. He has always had his Kharma loudspeakers and it makes for a great combination. Sjaak had his RS power amp upgraded to 101 spec and then about a year later decided to go the whole hog and get himself an SIA-025. More recently we upgraded the RD-100 to the new RD-101 which was quite a jump. The RD-101 is quite a bit more dynamic and extrovert than the outgoing RD-100 with a lower noise floor, more fine details and just a more vivid immersive experience.
I included this system because I love the look. It's very neat and very homely. It's an example of a system that shows itself off as something desireable but in a meek unobtrusive way, seamlessley blending into what is first and foremost, a place where the whole family live. Future plans really are to swap the Aurender out for one of the Melco units for a more transparent, resolving result. We could also then look at wires and power cords in a little more detail. A great little setup and I know Sjaak enjoys it every single day.
Paul was another of my first Tidal customers when we first brought the brand to the UK in 2016. He traded in a large Burmester setup and wanted Tidal electronics to mate with his TAD speakers. We fitted Preos/Impulse and he used this for some years with his SME 10 turntable and Antipodes streamer with Berkley ALPHA usb-spdif converter.
Some time in 2017 he decided to get the deck up to a higher standard more befitting of the rest of the system and indeed the very high level of the inbuilt Preos phonostage so we supplied a Dohmann Helix 2 with Schroeder CB tonearm. The next change that Paul made was to go for a Vitus SCD DAC. Despite the redundancy of the Preos Dac, he enjoys the extra  resolution he gets from the Vitus and the ability to also play CDs all in the one box.
The kit looks great on the new rack and we always like power amps stillpointed inbetween speakers. One day we would absolutely love to furnish Paul with a set of Vimberg or Tidal loudspeakers but until that time the TAD do a superb job. This is a challenging room acoustically but Paul has spent much time developing it with generous use of the DAAD acoustical devices. Another superb rig giving endless days of pleasure.
In 2020, Paul elected to go for the Taiko SGM Extreme streamer to replace his former Antipodes. Needless to say it was a huge sonic upgrade. The Taiko brings a spooky level of naturalness and musical insght to any digital setup.